Fans take part in Heysel anniversary friendly game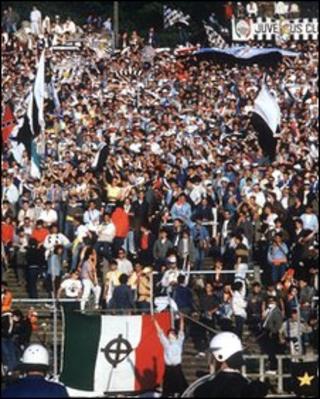 Liverpool and Juventus fans have staged a friendly match to mark the 25th anniversary of the Heysel disaster.
The game, at the Kirkby Academy, was organised by Juventus fan, Serafino Ingardia.
Thirty-nine people died when fans were crushed against a wall that then collapsed after a riot before the 1985 European Cup Final between Liverpool and Juventus in Brussels.
Bells at Liverpool Town Hall rang out 39 times at 1900 BST - the same time the tragedy happened.
Mr Ingardia, who has lived in Liverpool for the past five years, said: "I always felt something more should be done to try and clear the air between Liverpool and Juventus fans.
"I have seen with my own eyes how Liverpool fans regret that tragic night and feel genuinely sorry for what shouldn't have happened.
"We are just trying to get reds and Juventus fans together 25 years after Heysel. I have long been discussing about an event which could send a positive message to both Juve and Liverpool fans, and we felt the 25th anniversary would be a fitting time to do this.
"I spoke to Andrea Lorentini, who lost a parent in the tragedy and is the head of the 'Comitato Heysel'.
"He told me that a friendly game would be welcomed by the families and that he is really touched that Liverpool and Juventus fans will be remembering those who died on this anniversary."
Memorial services have also taken place in Turin, Brussels and Liverpool.
Reds fan Dave Usher, from the Liverpool Way fanzine, is in charge of the Liverpool team. He said he hoped the match would help relations between the rival fans.
"We just wanted to put on a united front in memory of those who died on that tragic night 25 years ago, and to show people in Italy that we haven't forgotten," he said.
"It's also important to point out that Liverpool FC are fully supportive of this match and offered to let us use the Academy to play the game."
The game and the commemorations will be the final events to mark the 25th anniversary of the disaster on 29 May 1985.
Two minutes' silence was held on Friday and a plaque was unveiled at Anfield on Wednesday in a ceremony attended by former Liverpool captain Phil Neal and former Juventus centre back Sergio Brio, who played in the final.
A white beam tree was also planted in St John's Gardens, behind St George's Hall, by council leader Joe Anderson.
The Heysel disaster led to all English clubs being banned from European football for five years with Liverpool serving an extra year.
In 1989, after a five-month trial in Belgium, 14 Liverpool fans were given three-year sentences for involuntary manslaughter.
Those who died included 32 Italians, four Belgians, two French fans and a man from Northern Ireland.
A further 600 fans were injured that night.