Award for Workington flood bridge built by Army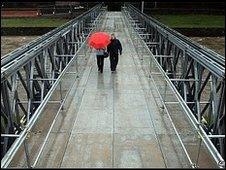 A bridge built by the Army in a week after flooding cut a Cumbrian town in two has been chosen for a top prize.
Workington's Barker Crossing was built after the town's Northside Bridge was washed away during last November's floods.
The 170ft (52 metre) bridge across the River Derwent was built by the Corps of Royal Engineers.
It was named the outstanding development of the year at the annual Variety Club Property Awards in London.
When it opened to the public in December, it was the first time since the floods that people in Workington were able to cross the river, other than by rail.
The bridge was named Barker's Crossing after Pc Bill Barker who died when Northside Bridge was washed away.
As well as the Army winning praise, Cumbria County Council and Allerdale Borough Council were given credit for their part in making the construction of the bridge possible.
Tony Markley, Cumbria County Council's cabinet member for highways and economic development, said: "Barker Crossing has been vitally important to the people of Workington.
"The Army were fantastic in getting the bridge built so quickly after the floods and fully deserve this award for their efforts in helping Workington back on its feet."
Previous winners of the award include Heathrow's Terminal Five, the Welsh Assembly building and the Birmingham Bullring.
Related Internet Links
The BBC is not responsible for the content of external sites.