Woman dies as bus avoids cyclist in Manchester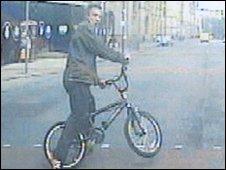 A 78-year-old woman died on a bus in Manchester city centre after it stopped suddenly to avoid hitting a cyclist.
Louie Palmer, from Northern Moor, suffered a serious neck injury when she was thrown forward when the bus driver braked sharply in Oxford Road on Friday.
Police have released an image of the cyclist, who they believe pulled out in front of the bus.
A 60-year-old woman also suffered a broken arm in the incident.
She was taken to hospital for treatment.
Pc Pete Phillips said: "This is a tragic incident in which an elderly woman has died.
"The bus driver had to take evasive action to avoid a cyclist who was in the road. We now want to speak to this cyclist as they could help us piece together exactly what happened.
"A bus passenger has died and I just want to speak to this person to get their version of events."
Anyone with information is asked to contact Greater Manchester Police.
Related Internet Links
The BBC is not responsible for the content of external sites.