Archbishop calls for action against rebel Anglicans
By John McManus
BBC News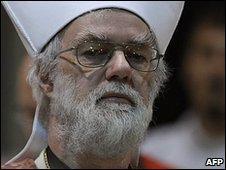 Anglicans who flout the wishes of the worldwide Church should be sidelined from official doctrinal committees, the Archbishop of Canterbury has said.
In his Pentecost letter to Anglicans worldwide, Rowan Williams says there is still "painful division" in the Church.
He cites the consecration of a lesbian bishop in the US, and Church leaders organising in each others' areas.
If his call is heeded it would be the first time such sanctions have been imposed on dissident Church members.
The archbishop added that dissident Anglican provinces should not take part in formal dialogues with other Churches.
Some Anglicans will see the measures as the first step towards a "two-tier" Communion, with Churches who refuse to compromise on their beliefs being increasingly marginalised.
Earlier this month the Episcopal Church in the United States defied Rowan Williams, by ordaining an openly-lesbian bishop, Mary Glasspool.
At the time Dr Williams warned that the action would deepen the rift between conservative and liberal Anglicans.
The Anglican Communion had agreed a moratorium on such ordinations, as well as forbidding clergy from blessing same-sex unions, and banning bishops from setting up breakaway churches in other parts of the Communion.
Traditionalist Churches in Africa defied this when they consecrated bishops to minister to conservative Americans who were unhappy with their own church hierarchy.
The African bishops said they were responding to invitations from members in the United States who objected to liberal policies on homosexuality.
The Archbishop of Canterbury has frequently criticised these actions in the past, but this is the first time he has proposed taking far-reaching steps to counter them.
Churches that defy the wishes of the communion would be excluded from full membership of important committees that decide what Anglicans believe, and their relations with other Churches.
The Inter-Anglican Standing Commission on Unity, Faith and Order (IASCUFO) is particularly important.
Its members debate Church doctrine, essentially deciding what Anglicans believe.
So far, The Episcopal Church in the United States has said it has no comment on Dr Williams's proposals.
"Our Anglican fellowship continues to experience painful division, and the events of recent months have not brought us nearer to full reconciliation," Dr Williams says in his letter.
"It is clear that the official bodies of The Episcopal Church [in the US] have felt in conscience that they cannot go along with what has been asked of them by others, and the consecration of Canon Mary Glasspool on May 15 has been a clear sign of this.
"And despite attempts to clarify the situation, activity across provincial boundaries still continues."
The Rev Rod Thomas, chairman of the conservative evangelical group Reform, commented: "This letter is long awaited and welcome, and I admire the attempt by the Archbishop to be even-handed.
"This is the first time the Archbishop of Canterbury has moved towards any clear disciplinary position, but it's better late than never.
"I hope this can help to repair relationships with Anglicans in the developing world."