Profile: Lib Dem MP David Laws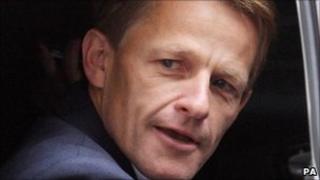 Liberal Democrat MP David Laws, who is facing a seven-day suspension from the House of Commons after breaching expenses rules, found himself centre stage in UK politics after last year's general election.
Mr Laws was one of the Lib Dem negotiators who hammered out the coalition deal with the Conservatives.
He then joined the cabinet as Chief Secretary to the Treasury - Chancellor George Osborne's right-hand man.
It was Mr Laws who read out the list of cuts that government departments would have to make under the coalition's initial £6.2bn attack on "wasteful spending".
But just 17 days after the coalition was formed, Mr Laws resigned after his expenses came under the spotlight.
It emerged he had claimed about £40,000 to pay rent to his partner - something banned under parliamentary rules since 2006.
Mr Laws said he had done so to conceal his homosexuality, not for financial gain, but apologised, repaid the money and stepped down from his cabinet role, referring his case to the Parliamentary Commissioner for Standards.
Praised by Tories
A former City banker, Mr Laws succeeded Lord Ashdown as MP for Yeovil in 2001 and rapidly rose to prominence in the Lib Dem parliamentary party.
As schools spokesman, he found common ground with the Conservatives in certain policy areas.
During the post-election negotiations, Tory education spokesman Michael Gove said he would gladly relinquish the schools portfolio to Mr Laws.
He praised his Lib Dem counterpart for being "thoughtful" and "motivated by idealism".
Aged 45, Mr Laws is among a new breed of young Lib Dem MPs whose promotion of more free market policies is in contrast with the party's left-leaning traditions.
He was co-author of the Orange Book, a 2004 collection of essays by Lib Dem rising stars about the party's future policy direction.
In it, he called for a return to the "traditional building blocks of liberalism", including free trade and a belief in the effectiveness of the private sector.
And, in a further sign of his determination to forge a new direction for the party, he went on to criticise "soggy socialism and corporatism".
Mr Laws has also called for limits on European Union powers, an end to the Common Agricultural Policy and a smaller role for the state in welfare provision, with an end to means-testing.
Move from finance
At the time, he was tipped as a possible leadership contender by some political pundits.
Mr Laws was educated at St George's College, Weybridge, an independent Catholic school, and King's College, Cambridge, where he gained a double first in economics.
He rose to be a vice-president of JP Morgan in his 20s, and was also managing director of Barclays de Zoete Wedd.
He quit the world of finance in 1994 to become economic adviser to the Lib Dems and, subsequently, their director of policy.
After entering the Commons, Mr Laws joined the Treasury select committee, before being appointed to the Lib Dem frontbench team as shadow to the Chief Secretary to the Treasury.
After the 2005 general election, he was promoted to the work and pensions brief.
He impressed Sir Menzies Campbell, who as party leader moved Mr Laws to the schools and children brief in 2007.
The standards investigation into his expenses in May 2011 found him "guilty of a series of serious breaches of the rules" over a number of years and said his desire for secrecy meant he had acted in a way "which was not compatible with the standards expected of an MP".
But it also said he had not sought to make financial gain and could have claimed more money if he had stuck to the rules.
The ruling is likely to dash ministers' hopes for a quick return to the cabinet for Mr Laws but could leave the door open for him to return in a government role at some stage in the future.