Bolivian government to negotiate over police lynchings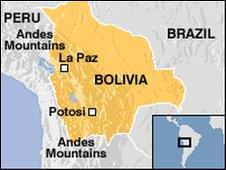 The Bolivian government says it will negotiate with an indigenous group that lynched four policemen on Sunday.
Government ombudsman Rolando Villena said he was travelling to the province of Potosi to try to convince the group to hand over the officers' bodies.
The attackers have reportedly hidden the corpses. They are refusing to release them until police investigate the deaths of four of their members.
The group has accused police of theft and murder.
The group, known as Warrior Clans, said it lynched the four officers, who belonged to a unit tackling car theft, because they had tried to extort money from clan members.
They accused the police of charging between $200 and $1,000 in exchange for turning a blind eye to the smuggling of cars from neighbouring Chile.
"Brothers, we did not kill police officers, we killed thieves disguised as police officers," one local leader told a local gathering.
The area where the lynchings took place is home to five indigenous communities. It is a well-known smuggling route for cars from neighbouring Chile.
Relatives of the murdered policemen met President Evo Morales to ask for help in retrieving the bodies.
"They were doing their duty," one of the wives said. "You who are the highest authority in the land, help us."
Eighteen relatives had previously travelled to the area where the murders had taken place, but were reportedly warned they, too, would be lynched if they proceeded any further.
There is no police presence in the region after they retreated in the face of death threats.