Antrim woman, 62, jailed for sex attacks on two boys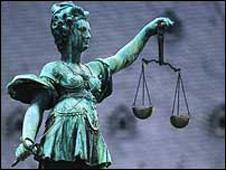 A 62-year-old woman has been jailed for a year for abusing two young boys more than 20 years ago.
Audrey Elizabeth Beck from Ballyhill Road, Nutt's Corner, admitted indecently assaulting one boy when he was aged between ten and 11.
She also admitted similar offences against another boy when he was aged between 12 and 14 years.
Antrim Crown Court ordered that Beck serve three years' probation on her release.
The offences happened between May 1986 and January 1992.
Earlier, the court had heard that the offences came to light when one of the abused boys went to the police in 2007.
In imposing the sentence, the judge said he had taken into account Beck's guilty plea and her "complete confession and remorse" expressed in a letter to the court.
The judge said the lapse in time had also "a disproportionate effect" on her health, leaving her "a broken woman", and that the state of her health meant she was not a risk to children.
Beck had worked as a championship dog breeder. But the judge said those days would be over for her.
"I am satsified that you are now... a broken woman, exposed, ill and at least partially remorseful," he said.