Helen Newlove 'delighted' at House of Lords appointment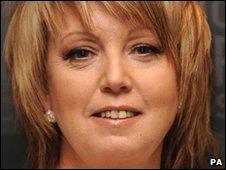 Helen Newlove, whose husband Garry was battered to death by a gang of youths, has spoken of her delight at being made a peer.
Mr Newlove was murdered outside his family's Warrington home in August 2007, after confronting teenagers over vandalism to his wife's car.
Since his death, Mrs Newlove, 48, has become a victims' rights champion.
She helped David Cameron campaign ahead of the general election and will sit on the Conservatives' benches.
Mrs Newlove said: "I am really chuffed and overwhelmed and totally delighted to take a seat.
"I want to work hard to make a difference, I won't stop until changes are made.
"David Cameron was a fantastic supporter and we've become friends."
She said she wanted to help families affected "who can't speak out", and to seek a greater focus for victims in the court process.
"I'll be looking at all the aspects that contribute to broken Britain," she added.
"I am eager to knuckle down and turn words into action."
Three teenagers were jailed for life for Mr Newlove's murder.
Related Internet Links
The BBC is not responsible for the content of external sites.