Sex and The City stars dismiss bad reviews
By Fiona Pryor
Entertainment reporter, BBC News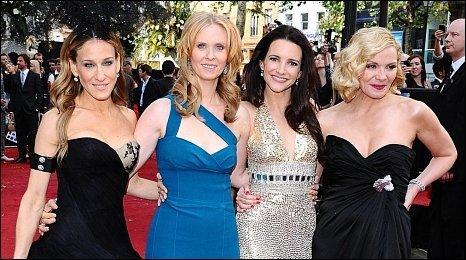 "There comes a point where you have to allow people to have opinions, good or bad," says Sarah Jessica Parker.
The actress is referring to the disappointing reviews the Sex And The City sequel has received.
"We've done everything we can. We obviously believe in the story we're telling and how we're telling it.
"We can't go back and change it, so at what point do you give any credence to the unkind, the aggressive, the hostile and the scurrilous? What value is there in that at this point? We're simply doing what is required of us to promote a movie."
The film, which sees much-loved character Carrie Bradshaw return with her three friends Samantha, Charlotte and Miranda, has been widely panned by the press.
The Guardian's Peter Bradshaw calls the film "misjudged and quite incredibly boring" and Polly Hudson from The Mirror says it was "like "watching a dear friend being brutally murdered in front of you".
But Kim Cattrall, who plays sex-mad PR guru Samantha, says the reviews will make no difference to box office performance.
"I think that people will be interested in seeing it no matter what. There's many delights. If the storylines don't grab you, the fashion might."
And Cynthia Nixon, who plays fiery lawyer and mother Miranda, insists reviews are meaningless in the world of film.
"They're often important in the theatre as they can make or break a play, but in movies I think people don't decide to go to the movies based on what they read in the paper."
Writer and creator Michael Patrick King also shrugs off the comments, insisting the fans will remain loyal.
"I feel like the critics are the people who go into the middle of a big party with a big fire hose and just wet everyone down, but the Sex And The City fans will just shake it off and have another cocktail and laugh," he says.
Kristen Davis, who plays the prissy and traditionalist Charlotte, says: "Our fans have been so loyal for so long. I feel like all of us that we feel very confident about our fan base and that's who we made this for."
Two years since we last saw the glamorous New Yorkers go about their lives, the four-some take an all-expenses trip to Abu Dhabi.
Carries bumps into an old flame, Samantha gets up to her old tricks and Charlotte finally admits she is finding motherhood too much.
For some diehard fans parts of the storyline might be hard to accept, but King insists the decisions he made about each character were integral to the Sex And The City ethos.
"We don't try and stop them from evolving in their lives," he says.
"By allowing the characters to grow and change you get to grow with them because they're basically reflecting your life."
The decision to shoot the film in the Middle East instead of its New York base has also been heavily criticised, but King says that was done on purpose.
"I made a deliberate attempt to take the girls as far away from the husbands and the babies as I could. Even though they have evolved in their marriages they become single girls again," he says.
The movie explores the differences between the four New Yorkers and Arab women, and in one scene Carrie and her friends are seen staring incredulously at a woman wearing a burka and eating chips.
Was there a concern that including scenes likes that might offence the people of the United Arab Emirates?
"I think people will like it a lot. It shows that you may look different, you might dress differently, you might speak a different language, but sisterhood is really global," she explains.
And Chris Noth, who plays Carrie's husband Mr Big, says the scene was "an interesting way to show how a modern Arab woman deals with the problem" of eating with the traditional head dress on.
He does admit, however, that the Arab world might view the movie "with anger" but adds "the women will probably like it".
Cattrall admits that although the film pushes boundaries, script changes were never considered.
"We've been doing Sex And The City for 14 years, we've been upsetting people for 14 years. We're kind of used to it, that's what the show is all about," she laughs.
"We've beaten down a lot of doors and opened a lot of people's minds about women and how they deal with issues."
However, the actress is the most hestitant about returning to make a third movie.
"I don't know, it depends on a script," she says.
"I think the worst that we could do is to outstay our welcome. It's good to know when to end something and I think that we did that with the series. I would hate to go on and make movies just for the money."
King refuses to be drawn on whether he is planning a third film, but Nixon says she would "definitely" sign up and both Parker and Davis agree they would too.
Noth adds he would only return "as long as people want to watch it".
"As soon as people don't want to come to the party then you don't have the party."
Sex and the City 2 is out across the UK now.
Related Internet Links
The BBC is not responsible for the content of external sites.