Talking Shop: Michael Winterbottom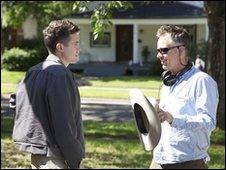 Michael Winterbottom is no stranger to controversy.
In 2004 the British director's film 9 Songs made headlines after the British film censor passed its scenes of real, not simulated, sex.
Winterbottom's latest film The Killer Inside Me, which premiered at the Sundance film festival, has already led to walk-outs and accusations of misogyny over the violence against its female characters.
The movie stars Casey Affleck as Lou Ford, a psychotic deputy sheriff in 1950s Texas. Jessica Alba plays Lou's lover Joyce Lakeland, and Kate Hudson co-stars as Lou's girlfriend Amy Stanton.
The film is based on the 1952 pulp novel of the same name by Jim Thompson.
Winterbottom's next project is The Promised Land - a political thriller set in 1930s Palestine. He is also working on the film Seven Days - starring John Simm - which is being shot over a period of five years.
What was it about the novel that made you want to film it?
Jim Thompson is a great writer. For me the book grabs you straight away. After I finished the book it really stayed with me - it had a powerful sense of tenderness that's been destroyed and wasted, and it was that that made me want to make it.
How much have you been surprised to the reaction to the violence?
I've been a little surprised that people have found it so hard to watch the two main violent scenes because I don't think they are that visually graphic compared to other films.
I think it's more to do with Casey's performance and the character of Lou and the intimacy of those scenes.
The second scene with Amy is not really that visually graphic at all - two punches - it's more the way in which he stays there and his behaviour.
Did you set out to shock?
I was trying to make a very literal version of the book and the scenes are shocking in the book.
So should it be shocking when Lou punches Joyce...? Yes, it should be shocking. It should be as shocking as it would be in real life. But not in the sense that 'oh this'll be great because it'll cause a lot of controversy'.
What do you say to those who criticise the film as being misogynist?
Obviously Lou is violent to women, but he is violent to men as well. Jim Thompson's world is a very dark world, and the world of Lou Ford is a very dark world. We see flashbacks of his childhood, we see him being abused in various ways as a child, he feels like his father has emasculated him.
The whole story is told by Lou... and he has a weird craziness where he doesn't make much connection - so he can at one point say he loves Amy and another moment say he wants to kill Amy.
That's the world Thompson's trying to create and I don't think that makes it misogynistic. Lou's a very dark character, so all the people in his world are seen through this dark vision.
What did Casey Affleck bring to the role of Lou?
I think Casey is a great actor and he was really the only person we met for Lou. It's a difficult role and it's a huge role, he's in every scene - and he's also the narrator, so it's absolutely critical who plays that part.
One of Casey's great qualities as an actor is that he can suggest a lot of stuff going on inside his head without having to do anything. He can be very calm on the surface but you feel there's a lot going on in his brain.
What kind of choices did you make when editing the violent scene between Lou and Joyce?
There is the violence and the mechanics of it, but I didn't want it to be just that plot point...
I wanted people to have time to watch it and think about it. You have time to see that the emotions are not what you expect.
Tell me more about your project Seven Days - which you are filming over five years.
We've been filming for three years, we just did a bit more last month. It's the story of four children visiting their father in prison. We see them grow up through the course of the film. It's out at end of 2012.
The chilldren are fantastic. Often when when working with children it's six or seven weeks and it always seems very disruptive - suddenly they are the centre of attention and then you say goodbye and you never see them again.
So we see them about twice a year and now they are totally used to it. It's not strange at all.
The Killer Inside Me is out on 4 June. Michael Winterbottom talked to BBC News entertainment correspondent Tim Masters.
Related Internet Links
The BBC is not responsible for the content of external sites.