Morecambe beach fails annual quality test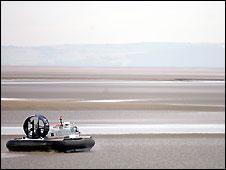 One of Lancashire's beaches has failed a test for its sea water quality.
Morecambe South has not met the required standard in the annual Good Beach Guide by the Marine Conservation Society (MCS).
The MCS said the poor water quality is likely to be a result of heavy rainfall overloading sewage systems and washing fertiliser and pollutants onto beaches.
The result of the test means the resort cannot apply for the Quality Coast Award, which it held in 2009.
Lancashire's other beaches have passed the test, including Cleveleys and Bispham, which both failed last year.
This year 421 of the UK's 769 bathing beaches have been recommended for excellent water quality.
The results are a slight improvement on the 388 sites recommended in 2009.
The number of failures has also dropped this year to 41 from 66 failed sites in last year's guide.
The latest bathing water tests were conducted from May to September 2009.
Related Internet Links
The BBC is not responsible for the content of external sites.