Bosworth battlefield boar badge declared 'treasure'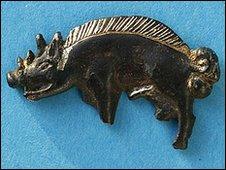 A tiny piece of metal which gave vital clues to the true location of the Battle of Bosworth has been declared treasure by a coroner.
The silver boar badge was dropped in the mud more than 500 years ago by a knight who fought alongside King Richard III, historians believe.
The white boar was the king's personal emblem and silver gilt boars were made for his knights and nobles.
The emblem will be independently valued by a committee of experts.
It has now been declared as treasure by the Coroner for North Leicestershire and Rutland Trevor Kirkman.
The emblem is just 29mm (1.14in) long and archaeologists believe it helped in the quest to discover the true location of one of Britain's most famous battles.
It is now believed that the battle, which happened in 1485, took place two miles away from the Bosworth Battlefield museum on private farmland land near Upton, Leicestershire.
The badge - unearthed during a search of land by metal detectors commissioned by Leicestershire Council Council in September 2009 - was assessed by archaeological specialists to determine the material and age of the item.
In order to be regarded as treasure, the Treasure Act 1996 says the item must be made of precious metal and be at least 300 years old.
While it is away being valued an exact replica will replace it on display at the battlefield museum.
Richard Knox, the curator at Leicestershire County Council's Bosworth Battlefield museum, said: "We believe this badge was almost certainly lost by one of Richard's supporters during the battle.
"It was found within a scatter of late medieval items, thought to have been struck from the struggling combatants during hand-to-hand fighting."
Related Internet Links
The BBC is not responsible for the content of external sites.