Profile: Lord Saville, chair of the Bloody Sunday inquiry
By Edward Stourton
BBC Radio 4 Profile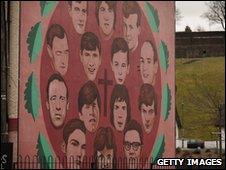 When Lord Saville was appointed to chair the Bloody Sunday Inquiry, he seemed the model judge for the New Labour age.
He was only 61, a spring lamb in judicial terms, and The Times of the day described him as "a new boy in the House of Lords, and arguably the trendiest".
Joshua Rozenberg, who was covering legal affairs for the BBC at the time, remembers that Lord Saville was seen as a "whizz-bang judge - not an old fuddy-duddy but somebody who could really get to grips with this rather challenging Inquiry".
It was thought the Inquiry would only take a year or two of his early career as a Law Lord.
Now, twelve years later, Lord Saville has given his final approval to the proofs of his report. It will be checked by a small team of officials and legal advisers, and then a publication date will be set.
He grew up in Sussex and went to Rye Grammar school.
Brian Bellhouse, who became a professor of engineering science at Oxford, went to school with him. He remembers that he and Saville "used to do a lot of cycling together and we've kept this up. His interests in those days were history and literature".
"But he was not a stuffy intellectual at all," he points out. "The only non-conformity was that he liked to work at home where he was less disturbed than he would have been at school."
Lord Saville's lawyer's life began at Oxford.
Sir Scott Baker, now a retired judge, was an undergraduate at Brasenose College at the same time, and was impressed by Saville's intellect: "He was without any doubt the most brilliant of our generation.
"He had an incredibly clear mind. He was a very hard worker but he worked very much on his own. I don't think in the whole of his time in Oxford he ever went to a lecture, he certainly didn't go to many."
Mark Saville took his finals in 1960, and won the top first. Two years after graduating, he was called to the bar in the Middle Temple.
Kenneth Rokison, his contemporary in chambers in Essex Court, says he will always be grateful to Lord Saville for introducing him James Bond books which he had read at Oxford: "He took up anything that was new and adventurous."
"He was for example one of the first hang-gliding enthusiasts," Rokison adds. "I remember him coming into chambers with a broken wrist, having thrown himself off the Devil's Dyke above Brighton. He took up sailing and he sailed for Great Britain, helming a small dinghy.
"Mark even had to win the car rally for the sailing club in which I was asked to navigate for him," he remembers. "He was driving his Mini Cooper S at frightening speed. Needless to say we won."
He is often called a perfectionist and meticulous, by both his admirers and his detractors, who say those qualities have marked his approach to the Bloody Sunday Inquiry.
His progress up the legal tree was, by the slow standards of the legal profession, impressively speedy. By the mid 1980s he had been honoured as a Bencher of the Middle Temple and was a high court judge.
His work on commercial arbitration brought him to the attention of government. In 1994 Sir Mark Saville, as he had now become, was appointed chairman of a Department of Trade and Industry Committee to update arbitration law.
And, a striking fact in the light of what has happened during the Bloody Sunday Inquiry, he was praised for the speed with which he found a way through the complex issues that had kept the committee bogged down for ten years.
Kenneth Rokison sat on the Committee with him, and says that Saville dismissed the idea of parliamentary draftsmen: "He sat down with a piece of paper and a pen, and he drafted the Act almost single-handed. And that Act has been very highly regarded, all around the world."
Another quality that distinguished Mark Saville was a keen interest in information technology, and a real enthusiasm for the way it could be used to change the way the courts work.
Lord Saville has won plaudits for the way he used new technology to open up the Bloody Sunday Inquiry.
A virtual reality model of 1972 Londonderry was created. When the Inquiry was taking evidence, the proceedings were streamed at several locations around the city, and the stenographers' notes were available live to journalists and the legal teams.
Professor Richard Susskind, the IT adviser to the Lord Chief Justice, thinks: "The Inquiry is the leading showcase demonstrator of what technology can achieve in the modern court. There is nowhere in the world where information technology has been used so pervasively."
But from the very start the Inquiry ran into delays. Lord Saville fought a long, ultimately lost, battle to remove the protection of anonymity from the soldiers involved in Bloody Sunday.
Some say he misunderstood the purpose of the Inquiry, which should have been about systems, not individual blame.
It is now more than five years since the Inquiry ended its hearings and Lord Saville began writing up its conclusions.
He has just turned 74, just a year short of the retirement age for judges. In career terms he has paid a heavy price for what he took on twelve years ago:
"Mark could, and in my view would, have been one of our great jurists," argues Kenneth Rokison.
"He had a glittering career at the bar and also on the bench. The fact that the House of Lords and now the Supreme Court has been deprived of his services for so many years, will have been a great loss to the development of law in England and Wales."
Profile is broadcast on Radio 4 on Saturdays at 1900 GMT and Sundays at 0545 and 1740 GMT. Listen via the iPlayer,or subscribe to the podcast.
Related Internet Links
The BBC is not responsible for the content of external sites.