Final delays to the Saville Report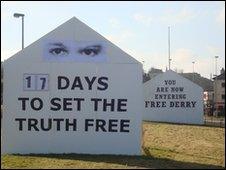 Twelve years after a fresh investigation into Bloody Sunday was announced, the Saville Report is now scheduled for publication after the general election.
It had been scheduled for March, and the families of those killed launched a campaign to have the report published in full on the same day it was presented to the government.
They were angry that the Secretary of State would see the report before them, and equally angry that they had yet to receive a date for receipt of the completed document.
They were also afraid that the report will be scrutinised by the Ministry of Defence lawyers - who may have represented the soldiers at the Inquiry - and could be amended before it is published.
The families also feared that the timing of the report's eventual publication could run into the Easter parliamentary recess or a general election, which would lessen the impact of the report's release or potentially delay it indefinitely.
"The Inquiry process, detailed, meticulous and painful as it was, could become a total mess and travesty in the final few weeks before it becomes public," said John Kelly, whose brother Michael was killed on Bloody Sunday.
"We are calling on Lord Saville to set the truth free, and we are calling on the Secretary of State to agree that Lord Saville should set the truth free," he said.
Under pressure from the families, the timetable was altered to allow security checks to take place while the report remained with Lord Saville.
This process began at the end of March, and was expected to take about two weeks.
A spokesperson for the Inquiry said the revised arrangements would "reduce the length of time for which the Secretary of State has to be in possession of the report before publication".
They also said it would not have any adverse effect on the timetable leading to publication.
The report would then be handed to the Secretary of State to decide on a schedule for publication.
But Shaun Woodward warned that this might not be until after a general election.
When the election was called for 6 May, the Northern Ireland Office announced the report would not be given to parliament until after the election.
A spokesperson said the decision had been taken because of the impending dissolution of parliament.
Alana Burke, who was knocked down by an armoured car on Bloody Sunday, said the delay was "absolutely disgusting".
"The General Election doesn't interest me.
"The disappointment for me is just overwhelming because I expected this report in the next week or two. Sheer frustration really."
The Report will remain with Lord Saville until he can hand it over to a sitting parliament.
The new Secretary of State, Owen Paterson, has said he hopes to be in a position to publish the report "as quickly as possible".