Delays after NHS phone changeover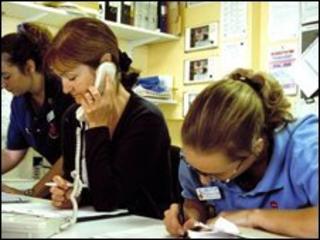 GPs in Glasgow have experienced delays in contacting the city's hospitals after a new centralised phone system was installed, it has emerged.
The GPs body, Glasgow Local Medical Committee, said in some cases phones had gone unanswered for 20 minutes.
It described the changeover as "a nuisance and not a crisis".
NHS Greater Glasgow and Clyde (GGC) said its new call centre experienced "an unforeseen technical issue" but this had been resolved on Monday.
The health board has been merging local switchboards for hospitals across the city into a new facility in Hillington.
Dr Alan McDevitt, secretary of Glasgow Local Medical Committee, said he was aware of some GPs having trouble getting through to hospitals to discuss patient admissions.
"We weren't told a new system was being put in place but if there hadn't been any problems I suppose we wouldn't need to have been, " he said.
"In some cases there were local arrangements - such as special lines for admissions - and it seems they have stopped working over the past few weeks.
"We're following it up with the health board but it's not a vast problem."
Dr McDevitt said that in some cases GPs had referred patients to hospital with a letter and without speaking to anyone from the receiving team.
But he stressed that this was not unusual under the old system where difficulties had arisen in communication lines.
'Local arrangements'
NHS Greater Glasgow and Clyde said there had been a problem which was now resolved.
In a statement, it said: "One aspect of the new call centre developed a technical issue whereby some calls were failing to present to the operators even though callers were hearing the lines ringing out.
"Together with our contracted telecoms provider, BT, the issue was resolved on Monday 24th May.
"During this time all direct dial inbound and internal emergency calls were fully operational and not affected by this issue."
The health board said that, until now, various hospitals in Glasgow had "operated on a number of uncoordinated and unlinked systems as part of historic local arrangements".
It said the new system "modernises all of Glasgow's telecommunications and offers staff an improved environment".
The changeover is being phased in. The first phase, which gave rise to the problem, began four weeks ago.