Derbyshire parents back quarry safety campaign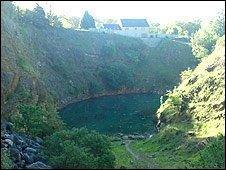 The parents of a teenager who drowned in a disused Derbyshire quarry have backed a safety campaign to raise awareness of the dangers of quarries.
Ryan Walker, 15, drowned in Far Hill Quarry, near Ashover, when swimming in the lake in June 2009.
His parents, Tracy Walker and Jason Clark, want to see improved safety and security at quarries.
The Stay Safe campaign launches ahead of a bank holiday, when more people are said to trespass in quarries.
The campaign is run by the Mineral Products Association (MPA) on behalf of the quarrying industry.
Safety experts have said that lakes are dangerous as they can be cold and deep, with hidden currents.
Other hidden dangers are said to be loose rocks, machinery and sand piles.
Ryan's mother said: "Kids think that they're indestructible and nothing will happen to them, but look what happened to Ryan.
"He's lost his life going into a quarry that looked like a tropical paradise. It was a lovely, sunny day but nobody knows the dangers of getting into the water."
Nigel Jackson, from the MPA, said: "Quarries are safe places for the trained people who work there but there are some very real dangers for anyone who enters a quarry uninvited."
Related Internet Links
The BBC is not responsible for the content of external sites.