Uganda mudslide victims on Mount Elgon still missing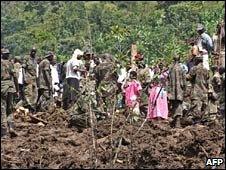 Hundreds of bodies buried in a mudslide in Uganda three months ago have yet to be recovered, the rescue team says.
Three villages on the slopes of Mount Elgon, near the eastern town of Bududa, were swept away in mudslide.
About 200 people are still unaccounted for, while around 100 bodies have been recovered, officials say.
The head of the army excavation team site told the BBC the recovery effort has been hampered by heavy rains and the regular breakdown of equipment.
"These machines are not designed to handle this kind of soil volumes, so I can't tell you when this work will be finished," Lieutenant Colonel Wilson Kabera said.
"On average [we discover] at least two bodies each day."
The BBC's Joshua Mmali in Bududa, about 275km (170 miles) north-east of the capital Kampala, says more than 8,000 displaced people have been resettled in a camp.
Many others, like George Washi, who lost 12 relatives in March's mudslide, are living precariously on the slopes of Mt Elgon
"I lost my children, my brothers and my grandmother. They are all dead. I am so depressed. I'm still waiting for four bodies to be recovered from the mud," Mr Washi told the BBC.
He says he does not want to move elsewhere until they are all buried.
"In my culture, when our people die like that, we must retrieve and bury them properly.
"If I don't do that, their spirits will follow me wherever I go to haunt me, and to complain that I abandoned them in the wild."
Our correspondent says people at the temporary displacement camp are anxious to move to a more permanent settlement, promised by the government.
"Resettling people such a large number is not a small matter," Tarsis Kkawegyere, minister of disaster preparedness, told the BBC.
"We're working on it and it's not a cheap matter, it's very expensive," he said.
Related Internet Links
The BBC is not responsible for the content of external sites.