Four policemen killed in Pakistan's Quetta city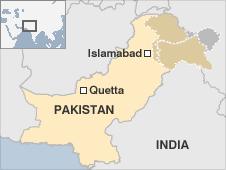 Four police officers have been killed after being attacked by gunmen on a motorcycle in south-western Pakistan, officials say.
The attack took place in the Satellite Town area of Quetta, the capital Balochistan province.
The head of the station, Abdul Khaliq, was killed along with his driver and two constables.
The officers reportedly played an important role in arresting militants from a banned Sunni extremist group.
Mr Khaliq was attacked as he was driving to the police station from his home on Friday morning, police said.
Correspondents say Mr Khaliq was known as a bold police officer who had received threats from armed insurgent groups operating in the region.
No group has yet said it carried out the attack, but armed Baloch nationalists have been targeting security officials and prominent non-Baloch civilians in the province for several years now.
More than a dozen people have died in such attacks this month alone.