Two minutes' silence to honour Heysel deaths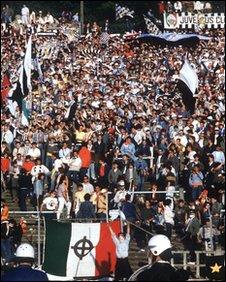 The people of Liverpool can relate to the suffering caused by the Heysel disaster, the city's lord mayor said.
Hazel Williams drew the comparison with Hillsborough during a town hall service ahead of the 25th anniversary of the tragedy on 29 May, 1985.
Thirty-nine people died when fans were crushed against a wall that then collapsed after a riot before the European Cup Final between Liverpool and Juventus in Brussels.
Two minutes' silence was observed after the service at the town hall.
Addressing about 30 people gathered inside, including representatives from Italy, Mrs Williams said: "We as a city know more than most about football-related tragedy and the scale of human suffering.
"Regardless of how much time passes, we will never forget those people who didn't return to their families.
"As a city we will do everything possible to offer you our apologies and support."
After the silence the town hall bells were run 39 times - a gesture which will be repeated at 1900 BST on Saturday, the anniversary day.
The Consul for Italy, Nunzia Bertali, said: "I want to say how much I appreciate your gesture of wanting to commemorate the victims of such a horrible tragedy.
"Given the circumstances it would have been much easier to forget than to remember."
Mrs Bertali and Ms Williams joined hands as the bells rang out and the Rector of Liverpool, Steven Brookes, then led a prayer.
The silence was one of several events being held in the run up to the event's 25th anniversary on Saturday.
A plaque was unveiled at Anfield on Wednesday in a ceremony attended by former Liverpool captain Phil Neal and former Juventus centre back Sergio Brio, who played in the final.
A white beam tree was also planted in St John's Gardens, behind St George's Hall, by Council Leader Joe Anderson.
The Heysel disaster led to all English clubs being banned from European football for five years with Liverpool serving an extra year.
In 1989, after a five-month trial in Belgium, 14 Liverpool fans were given three-year sentences for involuntary manslaughter.
Those who died included 32 Italians, four Belgians, two French and a man from Northern Ireland.
A further 600 fans were injured that night.
Related Internet Links
The BBC is not responsible for the content of external sites.