Ireland's Niamh Kavanagh aims for Eurovision double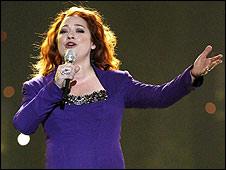 The Irish Republic's Niamh Kavanagh is one of the contenders to win the Eurovision Song Contest after being voted through to Saturday's final.
The singer, who took the title in 1993, was one of 10 acts to qualify from the competition's second semi-final.
She will be joined by Welsh singer Jon Lilygreen, representing Cyprus, and the favourite Safura, from Azerbaijan.
Automatic finalists France, Germany, Spain, the UK and last year's winners Norway will also compete on Saturday.
There was upset for Swedish folk singer Anna Bergendahl, who was eliminated from the final despite being tipped for success.
Lithuania, Switzerland, the Netherlands, Slovenia, Bulgaria and Croatia also failed to progress.
The second semi-final, held in Oslo's Telenor Arena, was dominated by lion-maned divas and over-wrought power ballads.
Georgia, Ukraine and Armenia's representatives were all long-haired, big-lunged goddesses - and all qualified.
Acts who deviated too far from the formula were punished - including Dutch contestant Sieneke, whose sing-along fairground song Ik Ben Verliefd (Sha-La-Lie) harked back to Eurovision contests of the past.
Lithuania's InCulto, meanwhile, failed to make waves with their tongue-in-cheek protest song East European Funk.
The quintet, who ripped off tartan trousers, Bucks Fizz-style, to reveal five pairs of sequined boxer shorts, were either too quirky or too irritating for the voters.
But the final will not just consist of warblers with wind machines.
Romanian duo Paula Seling and Ovi qualified with a performance that literally made sparks.
The couple shot fire from their hands while belting out their staccato pop song, Playing With Fire.
Turkish entrants maNga, who won Best European Act at last year's MTV Music Awards, also graduated to the final with a raucous nu metal track, featuring an erotic robot dancer.
Israel adopted a more low-key approach, with balladeer Harel Skaat performing on a bare stage accompanied by a grand piano.
Speaking to the press after the show, Kavanagh said, "I'm having the best time and I can't wait to get back on the stage on Saturday".
The flame-haired singer is predicted to come fifth in the final - but Eurovision watchers say there is potential for upset, with no clear leader as the contest approaches its final stages.
The UK's entrant this year is Josh Dubovie, 19, from Basildon in Essex.
His song, That Sounds Good To Me, was written and produced by Pete Waterman and Mike Stock.
Related Internet Links
The BBC is not responsible for the content of external sites.