Thai steelmaker to attend Corus sale talks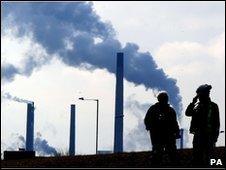 A delegation of union leaders and MPs are due to attend talks with a firm in Thailand about bidding to buy Teesside Cast Products.
National union officials said they were hopeful of a positive meeting with bosses of Thai steelmaker SSI about saving the Corus factory in Redcar.
It was partially mothballed with the loss of 1,600 jobs in February, after an international consortium pulled out.
The delegation was due to fly out to Thailand on Thursday night.
Michael Leahy, general secretary of the Community union, will lead the delegation and will meet SSI president Win Viriyaprapaikit.
He said: "We are looking forward to a productive and positive meeting in the interests of our members and the Teesside community."
The delegation issued a statement which described the meeting as a "critical juncture".
It said: "We are looking to offer every assistance to SSI if they are looking to purchase the steel plant.
"Not only does the plant have a reputation for high quality steel but the past year has shown the commitment and dedication of the workforce and the entire area to continuing steel making on Teesside.
"We want to find out more about SSI and be sure that they could provide a strong and certain future for Teesside and ensure that 150 years of proud steel production has not been ended."
Labour MP Tom Blenkinsop for Middlesbrough South and East Cleveland, who is part of the delegation, said he was hopeful of making progress in the meetings, and added:
"The fact that they want to see us shows there is a level of interest."
Earlier, the chief executive of Corus had hinted at a possible sale of Redcar's Teesside Cast Products plant.
Speaking in India at a presentation of parent company Tata's financial results Kirby Adams said talks were continuing and he expected a "good result".
Related Internet Links
The BBC is not responsible for the content of external sites.