Togo opposition 'to join coalition government'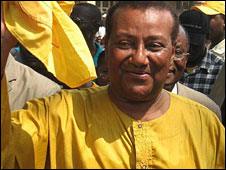 A veteran opposition leader in Togo has said he will enter into a power-sharing deal with the government.
Gilchrist Olympio told the BBC that his party will get eight ministerial posts in the coalition.
President Faure Gnassingbe won re-election in March, although the opposition alleged irregularities in the vote-counting system.
Mr Olympio said he wanted to save Togo from the "political crisis" which has lasted "40 years".
President Gnassingbe took power in 2005 after the death of his father, Gnassingbe Eyadema, who had ruled since 1967.
Mr Olympio - whose father was assassinated in 1963 two years after being elected Togo's first president - said his Union of Forces for Change (UFC) party would join with President Gnassingbe's ruling Togolese People's Rally (RPT) party.
"This is an opportunity to give a new chance to our population so as to find a solution [to the political crisis]," Mr Olympio told the BBC's Focus on Africa programme.
He acknowledged that some members of his party - such as the former presidential candidate, Jean-Pierre Fabre - disagreed with the move.
Togo has for years been the target of criticism over its human rights record and political governance.
Related Internet Links
The BBC is not responsible for the content of external sites.