Jeffery Deaver named latest James Bond author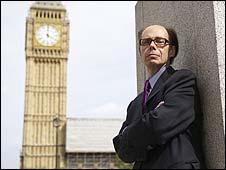 Thriller writer Jeffery Deaver has been chosen to pen a new James Bond book, to be published on creator Ian Fleming's birthday - 28 May - next year.
The US author follows in the footsteps of Britain's Sebastian Faulks, whose Devil May Care was published in 2008 to mark the centenary of Fleming's birth.
Deaver - whose books include The Bone Collector, filmed in 1999 - has called securing the assignment a "thrill".
The novel, currently known as Project X, will be set in the present day.
It will be published by Hodder & Stoughton in the UK and Simon & Schuster in the US.
"I can't describe the thrill I felt when first approached by Ian Fleming's estate to ask if I'd be interested in writing the next book in the James Bond series," said Deaver.
He said his novel would "maintain the persona of James Bond as Fleming created him and the unique tone the author brought to his books".
The plot, he added, "occurs over a short period of time and finds Bond in three or four exotic locations around the globe".
Deaver won the Crime Writers' Association's Ian Fleming Steel Dagger Award for his book Garden of Beasts in 2004 and paid tribute to the 007 creator in his acceptance speech.
It was this, said Corinne Turner of Ian Fleming Publications, that gave her the idea that he might be a worthy successor.
"I was surprised and delighted when he spoke very fondly of Ian and about the influence the Bond books had had on his own writing career," she said.
"It was at that point that I first thought that James Bond could have an interesting adventure in Jeffery Deaver's hands."
Kingsley Amis, John Gardner and Raymond Benson are among other authors to have written officially sanctioned Bond novels since Fleming's death in 1964.
In recent years British comedian and writer Charlie Higson has written a series of Young Bond novels, published by Puffin in the UK.
Related Internet Links
The BBC is not responsible for the content of external sites.