Head of exams watchdog Ofqual resigns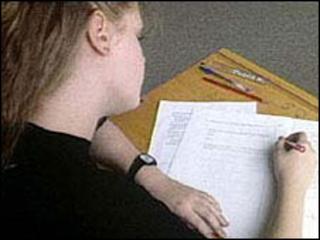 Kathleen Tattersall, the head of the exams watchdog Ofqual, has resigned citing the government's change in policy direction.
She said she had decided the move was "in the best interests" of the government and the education sector.
The announcement follows the government's decision to scrap the QCDA, the body responsible for the curriculum in England.
Ofqual regulates England's exam system and some exams sat in Northern Ireland.
The new administration has suggested it will reform Ofqual, but has given no details until now.
In a letter accepting Ms Tattersall's resignation, Education Secretary Michael Gove said he would be bringing forward legislation to strengthen the independence of the body.
Mr Gove also thanked Ms Tattersall for her service and repeated his support for Ofqual.
In the run up to the General Election, David Cameron said the quango should have a narrower focus, concentrating on a much smaller number of subjects.
There should be "less tinkering, bureaucracy and expense", he said in a speech dubbed the "bonfire of the quangos".
Fresh perspective
In her resignation letter to Mr Gove, Ms Tattersall said the government was "bringing a fresh perspective to public policy, in education as in other areas".
With this in mind, she said she had concluded her resignation was "in the best interests both of government and of the education sector for Ofqual to have a new chair".
Ofqual was formed along with the QCDA in 2008 when the Qualifications and Curriculum Agency was broken into two bodies.
This followed the Sats marking chaos in the summer of that year in which scores of exam papers were lost.
Ms Tattersall went on to say: "I am sad to be leaving Ofqual at this point in time.
"However, Ofqual will continue to have strong leadership throughout the summer and beyond.
"I leave behind a strong and capable chief executive in Isabel Nisbet and I am confident that she will be well supported by the deputy chair, Dame Sandra Burslem and the Ofqual Board."