Man charged with murders of three Bradford women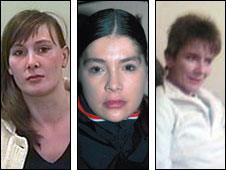 A 40-year-old man has been charged with the murders of three Bradford women.
Stephen Griffiths is accused of murdering Suzanne Blamires, 36, Shelley Armitage, 31, and Susan Rushworth, 43, who were all sex workers in the city.
Mature student Mr Griffiths, of Thornton Road, was remanded in custody and will appear in court on Friday, the Crown Prosecution Service (CPS) said.
Body parts belonging to Ms Blamires were found in the River Aire in Shipley on Tuesday, police have confirmed.
Ms Blamires, who lived in Barkston Walk, Allerton, was last seen on 21 May.
Her 55-year-old mother Nicky Blamires said: "Unfortunately my daughter went down the wrong path and she did not have the life she was meant to have.
"She was a much-loved daughter, sister and niece and what has happened to her will haunt me to the day I die.
"Suzanne was a bright, articulate girl who went to college and was training to be a nurse."
She added: "At the end of the day nobody deserves this.
"All these girls were human beings and people's daughters."
Ms Armitage, also from Allerton, has been missing since 26 April and Ms Rushworth, from the Manningham area of the city, has not been seen since June 2009.
CPS spokesman Peter Mann told a news conference: "I have decided that there is sufficient evidence to charge Stephen Griffiths with their murders, and that it is in the public interest to do so.
"Accordingly, I have authorised the police to charge him this afternoon."
Mr Griffiths will appear at Bradford Magistrates' Court on Friday morning and he is expected to be then remanded into custody to appear at Bradford Crown Court on Friday afternoon.
Mr Mann said: "The events of the last few days have understandably been very upsetting for the families and friends of Suzanne, Shelley and Susan as well as for the wider public in Bradford.
"Their families have been informed of my decision by the police and I hope soon to be able to meet them and explain the trial process to them and answer any questions they may have."
Related Internet Links
The BBC is not responsible for the content of external sites.