No way home for Palestinian collaborators
By Wyre Davies
BBC News, Jerusalem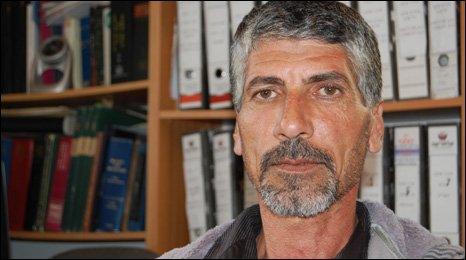 For a man who knows that he would face almost certain death if he ever returned home, Mohammad Saad appears remarkably at ease and sanguine about his predicament.
Mr Saad is among perhaps the most reviled class of person in Palestinian society - someone who has given or sold information to Israel.
In a frank and remarkably open interview, Mr Saad has told the BBC why he betrayed his own people and why, he thinks, he now deserves more protection and help from the Israeli state.
Mr Saad says that he infiltrated Palestinian militant groups and claims to have saved many lives.
Originally from the West Bank town of Hebron, he now sits in a cramped lawyer's office in Tel Aviv as he tries to forge a new life in Israel.
Mohammad says that for nine years in the 80s and 90s he infiltrated the Palestinian militant group, Tanzim, in Hebron.
Armed with a tape recorder, given to him by his Israeli handler, he says he helped stop attacks on Israeli civilian and military targets.
"I saved lives," says the 41-year-old father of three children.
"The Israeli agent didn't believe me at first but then I infiltrated the militants with a tape recorder on my body and recorded their plans to attack Jewish settlers. I didn't do it for money, I did it because we are all Israelis and it is wrong to kill."
Few Palestinians will have any sympathy with Mr Saad.
To them he is a traitor who took money to betray his own people.
In a crowded and tense part of the world the term "collaborator" covers a multitude of sins.
It's not just people like Mr Saad who give up sensitive information about militant operations, it also refers to Palestinians who sell their land or property to Jews in places like Jerusalem's Old City or suburbs including Silwan and Sheikh Jarrah.
Property is often sold to Jews through middle men, by Palestinians who fear repercussions because here land, and who owns it, can be a matter of life and death.
Dr Mahdi Abdul Hadi considers himself a moderate man.
Yet in clear unambiguous language the founder of the Palestinian think-tank, Passia, underlines the contempt for collaborators held by wider Palestinian society.
"It is betrayal. From the political perspective it is self-defeating and from the moral perspective it is a sickness," he says.
"Some people even look upon it as political prostitution. That's why collaborators are seen as a separate entity from Palestinian society as a whole."
In the last two decades several men, accused of being collaborators, have been executed by Palestinian authorities in Gaza and the West Bank.
Yet it's thought that every year hundreds, perhaps even thousands of Palestinian men and women still help Israel by passing on information. Some do it for money, some are compromised sexually, others may do it for the promise of medical treatment unavailable in the Palestinian territories.
Some, like Mr Saad, say they give up their fellow Palestinians for ideological reasons.
That, says Israeli lawyer Michael Tupelow, is why collaborators like Mr Saad deserve much more than just the gratitude of the Israeli state.
"Collaborators and informants - there may be as many as 5,000 of them - are very important to Israel," the lawyer told me, as he filed through a huge pile of documents - all relating to Palestinian informers seeking new lives in Israel.
"Very clear promises are made to them at the start. The collaborator is told he and his family will be looked after but, far too often, those promises are not fulfilled. They should be given full residential, health and civil rights because of what they have done for Israel."
Even though he and his family are still in limbo - hoping their permits to remain in Israel are renewed every three months - Mr Saad and his lawyer were happy for him to be identified in our story, because it is widely known back in the Occupied Territories that he's facing a death sentence should he ever return.
Only last month two accused collaborators were executed in Hamas-controlled Gaza.
It's a dangerous game but informants and collaborators still play a role in this seemingly endless conflict.
Related Internet Links
The BBC is not responsible for the content of external sites.