Can DR Congo cope without UN force?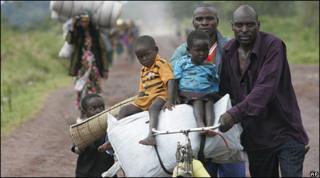 The UN Security Council is preparing to vote on whether to extend the mandate for its peacekeeping force in the Democratic Republic of Congo. The BBC's East Africa correspondent Peter Greste looks at the impact a pull out could have on the giant but still unstable country.
The Democratic Republic of Congo has had enough. It wants the UN peacekeeping force to go home. All 20,000 of them.
"Don't do anything for us," Congolese Information Minister Lambert Mende told the UN. "We will do it ourselves."
It has been more than a decade since the first blue helmets arrived in the DR Congo to damp down the smouldering embers of what was then known as "Africa's World War" - a conflict so complex that it drew in forces from no less than eight African countries and some 25 armed groups.
The first of the UN troops arrived in 1999, first to deal with the nationwide civil war, and then with the mosaic of militias that ran amok across the east, looting the region's staggeringly rich mineral resources.
Now, most of the foreign influences have faded; the geography of conflict shrunk to a handful of perennially troubled provinces; and all but a handful of militias have either been disarmed, folded into the Congolese army or reduced to gangs of armed bandits.
And according to the government of Congolese President Joseph Kabila, the work that the UN force (known by its French initials as Monuc) is doing can now be handled by his own security services.
'Unpopular' mission
There is no doubt that things have improved over the past decade, acknowledges Human Rights Watch's Congo expert Anneke Van Woudenberg.
"But we'd be very worried about any drawdown of the peacekeepers without any clarity about how civilians would be protected, especially with such extremely high levels of sexual violence and displacements of civilians," she says.
"We've been very critical of Monuc's operations in the past, but the fact remains that the region is still far too unstable, and the militias far too much of a problem for them to go now."
Mr Kabila has indicated that he wants all the Monuc troops out by the end of 2011 - a timetable that hints at the underlying reason he wants them gone. Elections are due then, and Congolese are instinctively opposed to anything that hints at colonial interference.
"Monuc isn't widely popular amongst the population," says former political adviser Gunther von Billerbeck (now with the think-tank Oxford Analytica).
"In the short term, it helps Kabila to be seen to be pushing them out, but in the long term I find it hard to imagine how he can run his country without the peacekeepers. I don't think he can hold the country together without them."
But the analyst believes that Mr Kabila's ultimate goal is not to see them gone entirely, but with a weaker mandate that gives him more control over their operations.
He says he believes the lack of popular support for the UN force stems primarily from an inability to protect civilians.
"Of course, that has a lot to do with the chronic lack of resources that has plagued Monuc since the beginning," he says.
"But the civilians don't make that distinction. To them, Monuc represents the international community which has unlimited resources, so they can't understand why they never had the power to protect them."
Concessions to Kabila?
It has been a persistent complaint from amongst the UN peacekeepers: too few helicopters to cover an area half the size of Western Europe, inadequate communications and a mandate that never really defined what they could and could not do.
Another Congo analyst Jason Stearns, agrees: "They never really figured out how to protect civilians in imminent danger. In military terms, it is an incredibly difficult mandate to fulfil, particularly when it involved getting in the middle of a fight that was already underway."
"The military power was only ever a tool in the political tool box, but too often the political masters failed to use them properly and effectively."
But the criticisms of the UN's work in the region extend beyond that.
Monuc has been plagued by allegations that its troops were engaged in sexual exploitation of women and girls; in looting some of the minerals; and a perceived co-operation with the CNDP rebel movement that had the support of neighbouring Rwanda.
Allan Doss, Monuc's civilian head who is due to retire at the end of May, acknowledged the problems. But he put in place a series of measures to investigate allegations and tighten up on abuses - steps that according to Ms Van Woudenberg have been largely effective.
So, what will the UN Security Council decide when it votes on whether to extend the peacekeeping mandate?
UN sources indicate that it will extend the mandate, and for at least another 12 months. The region is simply too unstable for it to go, and some units of the Congolese army have been accused of being amongst the worst abusers.
But it is expected that a series of concessions will be made to President Kabila, including plans to withdraw up to 2,000 peacekeepers by the end of July; and a series of "critical tasks" that the Congolese government must undertake before any large-scale withdrawal happens.
"Monuc has had its problems militarily," says Mr Stearns. "But the most important thing to recognise is that their successes have been largely unsung and largely political… it is much too soon for them to leave now."