Welsh Hadron Collider leader receives honorary degree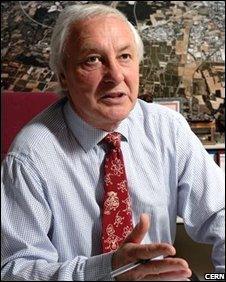 Dr Lyn Evans, head of the CERN Hadron Collider project, has received an honorary degree from the University of Wales.
The Aberdare physicist's 15 years' leadership of the particle accelerator experiment in Switzerland was recognised at St David's Hall, Cardiff.
The collider smashes together protons to simulate the conditions immediately after the Big Bang.
The project aims to unlock the secrets behind the building blocks of life.
If successful the project will shed light on "dark matter", the invisible material that exists between particles, and Higgs Boson, the so-called "God particle" that gives everything its mass.
Dr Evans studied physics at what was then the University of Wales, Swansea, completing a PhD in 1970.
In 1971, he joined Geneva's European Laboratory for Particle Physics (CERN) as a research fellow, where he has been working ever since.
Dr Evans is also known for his encouragement of Welsh school pupils to follow careers in science and he received the CBE in 2001.
He said: "It's been 41 years since I received a degree from the University of Wales and to receive an honorary degree after all this time is the ultimate accolade.
"After having lived out of Wales for so long, I'm glad the university hasn't forgotten about me."
Related Internet Links
The BBC is not responsible for the content of external sites.