Duchess of York to appear on Oprah Winfrey show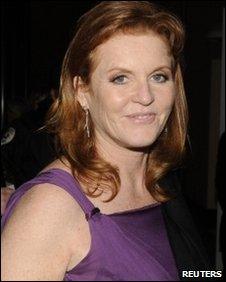 The Duchess of York is expected to appear on The Oprah Winfrey Show in the US, days after she was filmed allegedly trying to sell access to her ex-husband.
She has already apologised after she was shown on video allegedly offering an undercover reporter access to the Duke of York, a UK trade envoy.
The duke has denied any knowledge of his ex-wife's activities.
The duchess is in the US promoting her range of children's books.
On Sunday, the News of the World reported that she had agreed a £500,000 ($723,000) deal with a reporter posing as a businessman.
She was en route to the US when the story was published, and mentioned it at a charity event that night where she received an award for working with underprivileged children.
In a statement issued on Sunday, the Duchess of York said she was "sincerely sorry" for her actions and admitted her financial situation was "under stress".
"I very deeply regret the situation and the embarrassment caused," she said.
"It is true that my financial situation is under stress. However, that is no excuse for a serious lapse in judgement and I am very sorry that this has happened."
Her ex-husband, Prince Andrew, has "categorically" denied knowing about the meeting with the reporter, and Buckingham Palace said he carries out his role as a UK trade envoy with "complete and absolute propriety and integrity".
Related Internet Links
The BBC is not responsible for the content of external sites.