Chef jailed for friend's murder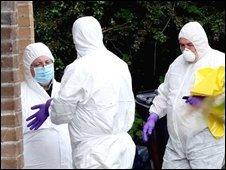 A chef from Belfast, convicted of murdering his friend after stabbing him in the chest during a drunken row has been sentenced to at least 15 years.
A judge told Neil Wilson, 30, of Orchard Mews, that he was "not at all convinced" about his level of remorse for knifing Shane Cunningham to death.
The attack happened after the victim, his brother Brian and Wilson returned home after a night out drinking.
The judge said that Brian Cunningham had been "traumatised" by the killing.
Mr Justice McLaughlin told Downpatrick Crown Court, sitting in Belfast, that the only account the court had heard of what happened was Wilson's claim that he was defending himself from Shane's brother Brian Cunningham when the pair fell on him.
During the trial, the jury heard how Shane and Brian Cunningham and Wilson had been drinking together in the Four Winds Bar and the Mount Ober Golf Club before going back to Brian Cunningham's house at Woodbreda Park for more drink.
Mr Justice McLaughlin said it was clear the Cunningham brothers were "significantly intoxicated and Wilson was also intoxicated although much less so".
After Wilson stabbed Shane Cunningham, he drove off and it was his brother who found his body a few hours later when he came downstairs.
"The best that can be said is that Shane was injured as a result of a drunken argument and fighting which went way beyond anything excusable," said Mr Justice McLaughlin.
At a previous court hearing, the judge had commented that the justice system appears to have an in-built bias favouring people from wealthy backgrounds after the courts which previously dealt with Wilson missed chances to "come down with a heavy hand" on him.
The judge outlined to the court a further offence of disorderly behaviour and possessing a weapon dating from May 2008, two months before Shane Cunningham was fatally stabbed, when Wilson became involved in a drunken disturbance at Cutters Wharf Bar in Stranmillis.
After he was put out by door staff, he came back armed with a golf club and "behaved in such a threatening manner that the police had to summoned and considerable effort was required to disarm him".
"Most of his convictions relate to this kind of serious drunken anti-social behaviour with accompanying public order elements and a background of threats and actual assaults causing injury," said the judge adding that "it is quite clear that the accused has been engaging in wholly unacceptable, threatening and at times, positively dangerous behaviour".
In handing down the 15-year minimum term, Mr Justice McLaughlin said it was clear that Shane's death had "affected many people" and that his brother Brian, who was "caught up intimately" in the events leading to his death, "has been traumatised by them".