Rugby star Josh Lewsey's Mount Everest attempt fails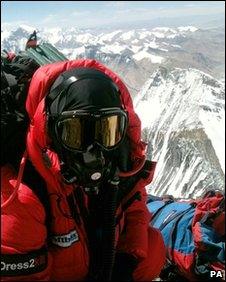 Rugby World Cup winner Josh Lewsey has abandoned his attempt to scale Mount Everest, admitting: "I have never felt so scared."
The former England and London Wasps back was within 500ft (152m) of the peak when breathing apparatus failed.
It left him in a race against time to descend from 28,543ft (8,700m) above sea level before oxygen ran out.
The Londoner passed dead climbers on the way down, including a mountaineer who had died two days before.
Lewsey, 33, who began the expedition in mid-April, said: "The most terrifying thing was seeing the dead bodies and realising that I could be one of them.
"I saw one Japanese climber who had died two days before.
"All you want to do is sit down and sleep because your oxygen levels are so low - but that's how they all ended up dying."
The expedition had already been bedevilled by poor weather and an avalanche.
Lewsey's hopes to have another attempt at the summit were dashed when kit suppliers were unable to provide replacement breathing apparatus in time.
Only four members of the 15-strong team managed to reach the summit.
Lewsey said: "I must admit there were mixed feelings as my team-mates made it to the top.
"I was delighted for them but from a selfish point of view, I was very disappointed I could not be there with them."
The rugby player was taking on the challenge with close friend Maj Keith Reesby, who also failed to reach the peak.
They were raising money for the Help for Heroes and Combat Stress charities.
Lewsey had previously said he was a "little bit daunted about the magnitude"of the task.
Related Internet Links
The BBC is not responsible for the content of external sites.