UUP chair David Campbell aims broadside at Basil McCrea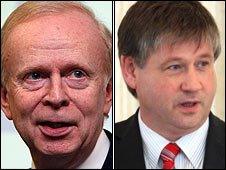 The chairman of the Ulster Unionist Party has delivered a rebuke to a party MLA who said leader Sir Reg Empey should step down immediately.
Sir Reg announced that he would stand down in the autumn following disappointing general election results.
However, Lagan Valley MLA Basil McCrea said that he should step aside at once.
UUP chairman David Campbell said Mr McCrea was not a senior party member and there was "dissatisfaction" within the party about his behaviour.
Mr McCrea said that it was a "general rule that whenever people decide that they are going in any walk of life, that if you don't go soon, what you end up with is a lot of discussions".
He added: "They become increasingly fractuous as time goes on and frankly, it does no good to either the incumbent leader or the party itself."
Mr Campbell said that the party executive had "overwhelmingly endorsed decisions about Sir Reg Empey's leadership and the timing of any leadership election".
"There was also widespread dissatisfaction expressed at the behaviour of Basil McCrea in attempting to conduct party business through the media," he added.
"The decisions of the party executive are clear, and they are decisions that Basil McCrea should respect."
He said that while Mr McCrea was an MLA, he could not be described as a "senior member of the UUP".
"Mr McCrea has never held a senior post within the UUP assembly group, was not voted on to the current executive by his constituency association, and is not a party officer."
In the general election, Sir Reg chose to stand in the South Antrim constituency, which was thought to provide the party's best chance of making a gain from the Democratic Unionists.
However, he lost out to the DUP's sitting MP, William McCrea.
The only UUP MP remaining after its disastrous 2005 general election performance, Lady Sylvia Hermon, left the party to stand as an independent in protest at its link-up with the Tories.
She retained her North Down seat with a convincing majority.