Man guilty of murdering sisters in Tooting house fire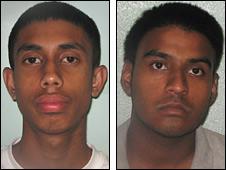 A second person has been found guilty of murdering two sisters in a house fire in south London.
Waiter Shihabouddin Choudhury, 21, was convicted at the Old Bailey a day after his cousin, 15-year-old Akmol Miah, was also found guilty.
Maleha, 15, and Nabiha Masud, 21, died in the fire in Tooting, south London, last June.
Miah, the former boyfriend of Maleha, took revenge with the arson attack after being jilted by the teenager.
He was named after a judge lifted reporting restrictions.
The Old Bailey was told the sisters' mother and two brothers were also injured in the fire.
Miah, 15, from Croydon, south London, was also found guilty of three counts of attempted murder.
Choudhury, from Coventry Road, Nottingham, was found guilty on Thursday.
Rasal Khan, 19, of Earl Howe Street, Leicester, who was accused of helping Miah, was found not guilty of all charges.
Following the convictions Zain Masud said: "This has been a tragic event for the family of enormous magnitude.
"The verdict was as we expected, however, this does not change the reality of our great loss. We have in effect been given a life sentence without parole and now must live with this."
Mrs Masud wept as she said: "I miss them a lot."
During the trial the court heard how Miah had searched on Google for "how to burn someone's house down" the day before the fire.
The boy, who was 14 at the time of the murders, had been in a "relationship of sorts" with Maleha.
But after they split she complained that the teenager was blackmailing her and claimed he would tell her mother about their relationship.
Prosecutor Jonathan Laidlaw QC said: "The two of them broke up and it was then that Miah threatened Maleha that if she did not continue in the relationship he would do something to her and her family.
"Why he should arrive at the extraordinary decision to burn down their house is really impossible to understand."
Killer's 'confident evidence'
The court heard that a search of Miah's home found that he had set pictures of the burnt and boarded-up property as his computer screensaver.
Miah recruited Choudhury to help him start the fire by pouring petrol through the Masuds' letterbox and setting light to it as the victims slept.
The sisters' mother Rubina, 55, and brothers Zain, 24, and Junaid, 18, all managed to escape.
Mrs Masud had shouted to her children to get out after being woken by the fire and eventually jumped from a window.
Zain also jumped but Junaid and his sisters remained inside. Neighbours could hear cries for help but were unable to mount a rescue due to the heat.
Maleha was found still alive, curled up at the bottom of her bunk bed. Her life support was withdrawn three days later.
Nabiha was transferred to a specialist unit in Chelmsford but died on 25 July.
Judge Christopher Moss ordered psychiatric and psychological reports on Miah after expressing his concern at "the apparent confidence with which he appeared to give evidence".
Outside the court Det Ch Insp Damian Allain said: "Nothing will bring back the Masuds' beautiful and vibrant daughters and sisters Maleha and Nabiha, but hopefully today's outcome will bring some closure for the wicked actions of Miah and Choudhury."
Miah and Choudhury will be sentenced on 9 July.
Related Internet Links
The BBC is not responsible for the content of external sites.