Google refuses to hand over German Street View data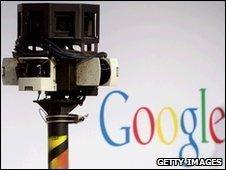 Google has refused to hand over sensitive wi-fi data it says it collected accidentally, despite requests from German authorities.
The internet giant has admitted to gathering data sent over unencrypted wi-fi connections while setting up its Street View service.
Under German law it is obliged to surrender this data to the Information Commissioner.
Officials say Google missed a midnight deadline on May 27 to comply.
The search giant said in a statement that granting access to the data creates "legal challenges" in Germany, which it said it needs to review.
The Information Commissioner (ICO) in Hamburg told BBC News he does "not follow" Google's argument.
Dr Johannes Caspar said German data protection officers "have legal power" to request and see the hard drives.
"I have asked the General Prosecutor in Hamburg whether Google would face problems in giving us the material, and he told us that this would not be a problem."
The Hamburg office, which is handling the case because Google's German headquarters are in the city, had previously imposed a midnight deadline on May 27 for Google to answer a range of questions about how the data was gathered, and hand over the hard disk itself.
In a statement, a spokesperson for Google said that the firm had been working hard to address the concerns of data protection authorities around the world.
"The data protection authority in Hamburg has made a number of requests -including to be given access to an original hard-drive containing the payload data, and to a Street View car," it said.
The statement confirmed that Google had already offered the ICO access to a Street View car, but not the data. It said that the firm hoped to "resolve this difficult issue" with more time.
In the run-up to the deadline, Dr Johannes Caspar told BBC News "We know that Google always thinks it's better to hold back the answers for as long as they are able to."
Earlier this month, the search firm admitted that it had collected information people had sent over unencrypted wi-fi networks for the last three years, whilst gathering pictures for its Street View maps of the world.
Last week, Google's CEO Eric Schmidt said that there was "no harm, no foul", in relation to the data breach.
Google said the wi-fi data collection was a "mistake" and that it had not been authorised by the firm.
Privacy advocates around the world have different views on whether the data should be passed on.
In the USA, the Civil Liberties Director for the Electronic Frontier Foundation, Jennifer Granick said on the organisation's website last week that "calls from some quarters for Google to simply turn over the data to the US or other governments are wrong-headed.
"To allow a government to investigate a privacy breach by further violating privacy is senseless."
Simon Davies from the Privacy International campaigning group acknowledged that the case "puts all of us into unchartered waters" and said Google was right to be cautious.
"However, the company cannot remain vague about the legal dilemma. Google must precisely specify which laws it fears would be breached were it to hand over the data.
"Anything short of that appears to be arrogant, unlawful or evasive," added Mr Davies. He said that he believed that it would be "lawful" for the data to be surrendered in Germany.
And Ian Brown, an expert on privacy at the Oxford Internet Institute said that it is "pretty safe to assume that German data protection authorities understand German data protection law, so this is not going to do much for public trust in Google."
"People will be thinking 'what is it they have to hide'".
Dr Caspar confirmed that his office was engaging further dialogue with Google, and that his office has "the power to raise a fine of €50,000" (£42,000).
"We have to see what we will do next, and hope we will get the hard drives later on," he said.
Related Internet Links
The BBC is not responsible for the content of external sites.