Polls close in Douglas East by-election on Isle of Man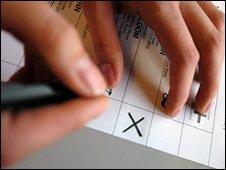 Polls have closed in the Douglas East by-election.
Constituents have been voting for a new member of the House of Keys (MHK). The seat became vacant when Phil Braidwood was elected to the Legislative Council.
The House of Keys is the lower, directly elected branch of the Manx parliament.
Six candidates - Kate Beecroft, Colin Cain, Chris Heath, John Joughin, Kevin Woodford and Chris Robertshaw - stood for the seat.
Five people arrested over allegations of corrupt or illegal practice in the proxy voting process this week have been released on bail.
Related Internet Links
The BBC is not responsible for the content of external sites.