Fired Junior Apprentice candidate from Powys walks tall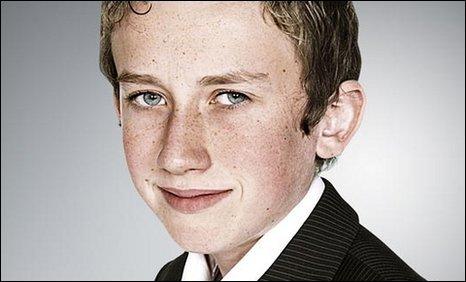 A candidate fired from from BBC One's Junior Apprentice says the show has helped him overcome a complex about his height.
Rhys Rosser was the latest boardroom casualty in the BBC One programme, but he said his experience had given him the confidence to go and succeed in life.
Rhys, 17, from Powys, was the project manager for the third week of the show.
Lord Sugar's adviser Nick Hewer, said Rhys's team "cut him adrift - wrongly".
He was sacked by Lord Sugar after his team failed to win the task of icing, decorating and selling their own cupcakes.
After his expulsion, Rhys, from Llanfihangel, near Llanfyllin, said he had always had a complex about his height, but following his experience it was not an issue anymore.
Rhys said: "I've always had a slight inferiority complex about my height - it is not an issue any more.
"I've learnt so much for later life from the experience of being in this process and it has really given me a fire in my belly and confidence to go on and succeed in life."
The remaining candidates had reached the halfway mark of the series as Lord Sugar set them their third task.
They had to learn the art of adding value by icing and decorating their own themed brand of cupcakes and selling them to the public in one of the country's leading department stores.
Cupcakes have become big business in the UK over the last few years and Lord Sugar wanted to see if the young candidates could get a slice of the market.
Rhys, whose parents own the Cain Valley Hotel in Llanfyllin, was encouraged by his teammates to take on the project manager role.
But the 17-year-old, who has ambitions to be a barrister, was told by Lord Sugar that he had "fire in his belly", but it "comes out, maybe, at the wrong time".
He added: "Rhys, you are a very special person, don't ever forget that - I said it.
"This is a particular milestone. Rhys I've made my decision - you're fired."
Lord Sugar also described Rhys as a "charming fellow".
The weekly update on the Junior Apprentice website said: "From the outset of the task the 17-year-old struggled to assert his authority and, rather than leading his team, he often took a back seat during the various stages.
"Despite his best efforts to boost morale, as the task continued it was clear the team had lost respect for their project manager and in Nick's words they 'cut him adrift'.
"The team's lack of unity led to a loss in the boardroom and to Rhys becoming the third candidate to leave the show."