Taxi driver wins back late payment fees
By Ian Pollock
Personal finance reporter, BBC News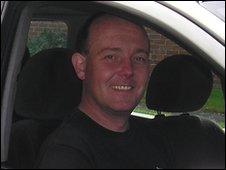 A Liverpool taxi driver, Mike Parry, has successfully challenged late payment fees charged on a loan.
A court in Liverpool has forced Close Premium Finance to repay him £502, including interest and costs.
Close had charged him an extra £30, on eight occasions, when he failed to make his regular repayments to the firm.
Close said it believed the court's decision was "founded on an administrative error" and would try to get the decision set aside.
But Mr Parry said: "I feel on top of the world."
"It's not a large amount of money, it was the principle of it," he added.
If any challenge to the court decision is unsuccessful, it could open the way for many other people to try to reclaim late payment charges they have had to pay on personal loans.
Last year, the Supreme Court threw out a high profile challenge by the Office of Fair Trading (OFT) to the legality of bank overdraft charges.
In the light of that, the Judge at Liverpool struck out Mr Parry's original claim against Close, which had been on hold while the bank charges test case wound its way through the legal system.
Mr Parry then refined his claim, and argued that it should be reinstated.
He said that the Supreme Court ruling applied to bank overdraft charges only, not to ones imposed on other loans.
And that meant, he said, that the 1999 Unfair Terms in Consumer Contract regulations (UTCCR) could be applied to the late payment fees levied by Close, on the grounds that they were arguably unfair.
Close failed to submit a defence to this revised argument, and Mr Parry was awarded his claim by default.
This means the court did not make a ruling on his legal argument, but after bailiffs were authorised to seize property, Close agreed to pay up.
Between 2002 and 2008 Mr Parry borrowed between £2,000 and £3,000 a year from Close to pay his annual vehicle insurance premiums.
When he went overdrawn at his bank this resulted in some of his direct debits to Close being bounced.
Even though the late payment fees were clearly stated in the loan's terms and conditions, Mr Parry decided in 2007 that he might be able to challenge their validity.
"At first I thought it was fair to cover their additional costs, but when I got interested in the bank charges campaign I realised it was very unlikely it cost them £30 each time to deal with me," Mr Parry said.
In 2007 Close offered to repay half the £240 fees as a gesture of goodwill, but he turned this down.
"I didn't like their attitude, that they could justify anything by saying it was in the terms and conditions," Mr Parry said.
Mr Parry was helped with his claim by the Consumer Action Group (CAG), a leading campaign group against bank overdraft charges.
Its spokesman, Marc Gander, said: "The OFT ought to come right out and tell people that the bank charges decision does not affect other types of late payment charges."
"All of these can be, and should be, assessed for fairness under the UTCCR.
"They are not covered by the exemption identified by the Supreme Court," he added.
Close Premium Finance said: "We have done everything appropriate to try to ensure a resolution to this case and have been in frequent correspondence with the customer."
"It is important to note that this judgement is not the final outcome of the case and that we are in the process of seeking to have the judgement set aside," it added.
Related Internet Links
The BBC is not responsible for the content of external sites.