Peru indigenous leader Pizango freed on bail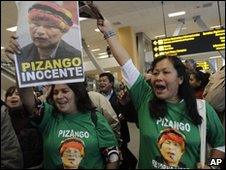 A Peruvian indigenous leader who was detained on Wednesday as he returned from almost a year in exile in Nicaragua has been freed on bail.
A judge told Alberto Pizango he would still have to face charges of sedition and conspiracy at his upcoming trial.
He is accused of inciting protests against planned oil and gas exploration in Peru's rainforest that turned deadly.
More than 30 police officers and civilians died in last June's clashes.
Mr Pizango was detained at passport control at Lima airport on Wednesday. He had fled to Nicaragua last June, where he was granted asylum.
Before leaving Nicaragua, he told reporters why he was returning: "I think that I have waited too long and will make this enormous sacrifice that has cost me and is costing me so much."
He has been the leader of the country's most influential indigenous organisation, Aidesep, which last year staged two months of rallies and blockades across Peru's Amazon region.
The protests ended in bloodshed when police tried to clear roadblocks near the town of Bagua.
According to government figures, 10 civilians and 23 police officers died.
Mr Pizango's supporters say he is being politically persecuted.
His lawyer said the judge had dropped the detention order but not the charges against him.
Last year's violence highlighted the tension between the government which wants to open up the rainforest to oil and gas exploration and logging, and the opposition of indigenous people, says the BBC's Dan Collyns in Lima.
It was also President Alan Garcia's biggest challenge since taking office in 2006. He was forced to reshuffle his cabinet and several land use laws were suspended.
Related Internet Links
The BBC is not responsible for the content of external sites.