S Korea holds anti-submarine drill as tensions grow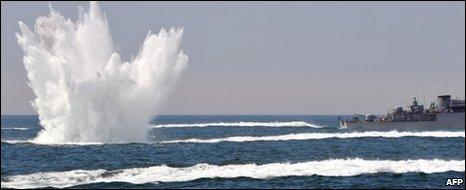 The South Korean navy is conducting a major anti-submarine drill, amid renewed tensions with North Korea over the sinking of a southern navy ship in March.
The South Korean news agency, Yonhap, says 10 warships are taking part in the drill. Anti-submarine depth charges and naval guns are being tested.
An international investigation last week found that the South Korean ship, the Cheonan, was sunk by a torpedo from the North, but this has been denied by Pyongyang.
South Korea's one-day submarine exercise, taking place off the west coast town of Taean, follows the sighting of South Korean K1 tanks on Tuesday conducting an exercise to prepare for a possible surprise attack by North Korea.
The BBC's John Sudworth, in Seoul, says it is one of the first visible signs of a raising of South Korea's defence posture in response to the incident.
The surveillance of the North, using satellites and spy planes, is also reported to have been stepped up and more naval drills are planned, some involving US forces, says our correspondent.
South Korea's close ally, the United States, has said it intends to hold large-scale military exercises between its troops stationed in South Korea, and the South Korean armed forces. It has not yet announced a date.
Analysts have said none of the states involved wants to escalate military tensions, but South Korea and its allies want to find a way to restrain the North and prevent it from conducting further attacks.
North Korea denies any involvement in the sinking of the Cheonan.
US Secretary of State Hillary Clinton, who has just visited the region, said the international community must respond in the growing crisis over the sinking of a South Korean warship.
She said there was "overwhelming" evidence that North Korea was to blame, and urged Pyongyang to halt its "policy of belligerence".
"This was an unacceptable provocation by North Korea and the international community has a responsibility and a duty to respond," Mrs Clinton said.
She also urged China, a close friend of North Korea, to stand firmly with the international community on the issue.
"I believe that the Chinese understand the seriousness of this issue and are willing to listen to the concerns expressed by both South Korea and the United States," Mrs Clinton said on Wednesday.
"We expect to be working with China as we move forward in fashioning a response."
Officials travelling with Mrs Clinton, on her visits to Tokyo, Beijing and Seoul, say they believe that China appears to be moving closer to South Korea's position.
Analysts have predicted China will refrain from publicly chastising the North but could seek a discreet way to communicate widespread concerns to the North.
China's new ambassador to Britain has said his country's top priority at present is to avoid a violent conflict between North and South Korea, and guarantee stability in the region.
Chinese Vice-Foreign Minister Zhang Zhijun earlier said his country was still evaluating information on the sinking of the Cheonan.
South Korea has meanwhile announced a package of measures, including a halt to most trade. It is also seeking action via the United Nations Security Council.
North Korea announced late on Tuesday that it was cutting all ties with the South. It has also banned South Korean ships and planes from its territory.
It has said it will close the last road link between North and South if South Korean loudspeaker broadcasts of propaganda across the border resume.
With tensions rising rapidly, the North has reacted angrily to trade and shipping sanctions announced by the South.
The two states are technically still at war after the Korean conflict ended without a peace treaty in 1953.
Related Internet Links
The BBC is not responsible for the content of external sites.