Ships gather in Ramsgate ahead of Dunkirk re-enactment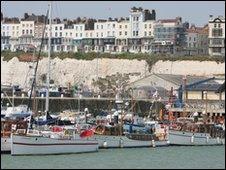 A fleet of 'Little Ships' that took part in the Dunkirk evacuations has gathered in Ramsgate ahead of the 70th anniversary of the event.
Up to 60 small vessels that assisted in Operation Dynamo, which started on 26 May 1940, will re-enact their journey.
A fleet of fishing boats and pleasure craft assisted naval vessels in the evacuation of about 300,000 Allied troops from the French coast.
Ramsgate's Royal Harbour Marina was the reception centre for returning troops.
One veteran vessel, the Fermain V, had to be towed into Whitstable habour by lifeboat crews after it broke down in The Swale as it travelled to Ramsgate on Wednesday afternoon.
Terry Radmore, who was one of four people on board the 40-foot (12m) motor boat, said: "We were just coming down the Swale when the engine stopped just upstream of Faversham Creek, probably with an overheating problem.
"We had left Conyer Creek earlier and were making our way to Ramsgate for the Dunkirk anniversary.
"The Fermain V had been used to ferry troops from the shore to the waiting larger vessels and on its last trip had been machine gunned by an aircraft.
"It made its way back to Ramsgate but later sank in the harbour but was refloated."
The Dunkirk re-enactment takes place every five years.
The ships will sail on Thursday escorted by the Royal Navy's HMS Monmouth and Ramsgate's RNLI lifeboat.
A day of commemorations will be held on Wednesday as part of the town's Dynamo Day, which includes a reception hosted by the Mayor of Ramsgate.
Robert Brown, the assistant harbour master, said: "The Dunkirk Little Ships only return to Ramsgate once every five years and they are a wonderful sight to see.
"It's a rare opportunity to see first hand some of the boats that played such a vital role during one of the most important operations of World War II. "
The ships will make their return journey on Monday.
Related Internet Links
The BBC is not responsible for the content of external sites.