New hardliner joins Cyprus talks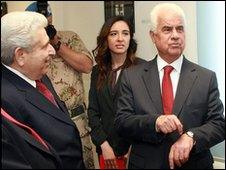 The UN secretary-general has called for "courage" as talks on the future of Cyprus resume with a new hardliner representing the Turkish north.
Ban Ki-moon said time was running out, but he believed an agreement could be reached "in the coming months".
Talks are resuming with newly elected Turkish Cypriot leader Dervis Eroglu negotiating with Greek Cypriot counterpart Demetris Christofias.
Mr Eroglu is seen as more hardline than his predecessor, Mehmet Ali Talat.
As talks began, Mr Ban said in a statement that achieving an agreement would "require vision, statesmanship and courage".
"A settlement is within your grasp and this opportunity must be seized as time is not on your side," he said.
"I truly believe that you can reach an agreement in the coming months."
The BBC's Tabitha Morgan reports from Nicosia that despite optimism from the UN secretary-general and the Turkish and Greek presidents, opinions over what kind of solution would satisfy both communities in Cyprus remain as diverse as ever.
Mr Eroglu rejects the united, federal solution, endorsed by both the Greek Cypriot negotiating team and the international community.
Instead he wants an agreement based on two loosely connected sovereign states.
Cyprus has been divided since 1974, when Turkish forces invaded the island in response to a Greek-led coup apparently aimed at making it part of Greece.
Related Internet Links
The BBC is not responsible for the content of external sites.