Economists warn of 'grim' budget cuts for Scotland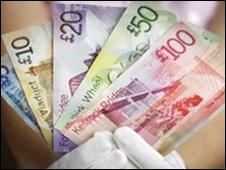 Scottish public spending faces a triple squeeze next year which could mean a budget cut of as much as 6.2%, according to finance experts.
The Glasgow-based Centre for Public Policy for Regions (CPPR) said the Scottish budget could shrink by between £1.1bn and £1.5bn.
That equates to between 5.2% and 6.2% of Holyrood's budget.
Economists expect about £1bn of cuts in the Holyrood budget from the next spending round.
The high end of its projected range of cuts next year is £1.18bn, and the low end is £885m, according to the analysis of the implications of Monday's Treasury announcement on public spending.
That will be added to the impact of delaying the emergency cuts announced this week, which will take a further £374m out of the budget.
There will also be the end of a fund built up from previous years' underspend, known as end year flexibility.
That is providing £303m in the current year, but will no longer be available.
According to the CPPR report, there is very little time to plan for this "severe reversal of approach for some".
The outcome of the Independent Budget Review Group, headed by Crawford Beveridge, has become particularly important, it said.
The report urged the Scottish government to start outlining how it will deal with the reduced budget over the summer, rather than waiting until the UK Treasury announces its multi-year spending review during autumn.
"As we are already aware of the general scale and timing with regards to these cuts, there is no excuse to delay clarifying major changes in funding for those bodies that will need to put them into practice," said the CPPR analysis.
"While 2010-11 will be the worst year for cuts, they will continue, in cash terms and for even longer in real terms for a number of years to come.
"The more managed is this cumulative decline the less effect it will hopefully have on the quality of public services available to the Scottish public."
The report added: "The prospects for Scotland's budget remain grim.
"Next year poses a very strong challenge in managing the downturn."
A Scottish government spokesman said they were already preparing for "next year and beyond", with the Independent Budget Review panel due to make recommendations by the end of July.
He said: "Those findings will inform debate and discussion as we prepare the 2011/12 budget."
The spokesman said the most recent element of Westminster cuts were being deferred to protect the "fragile economic recovery".
"While we await the UK Spending Review for full details of the Scottish government's allocation for next year, no-one should be under any illusion about the scale of the challenges we face in Scotland as a result of spending cuts from Westminster," he added.
Related Internet Links
The BBC is not responsible for the content of external sites.