Preston Lib Dem councillor quits 'to see girlfriend'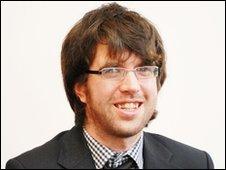 A Liberal Democrat councillor elected three weeks ago has resigned "to spend more time with his girlfriend", forcing a £5,000 by-election in Preston.
Liam Pennington, 30, took the city's Riversway ward seat from Labour by four votes on 7 May.
In a written statement he said local people "deserve a street champion not an accidental councillor".
Preston Lib Dem leader Danny Gallagher said he had tried to dissuade Mr Pennington from stepping down.
Mr Gallagher said Mr Pennington, who lives in Preston and works for Enterprise Plc, "campaigned hard" in the ward for six weeks running up to the election and was a "committed party worker".
"Something has happened in Liam's personal life and whether you condone it or not you have to accept it," he said.
"He wanted to spend more time with his girlfriend and I think he will be now - for solace if nothing else.
"It's a sad day because Liam would have made a great councillor."
Conservative councillor Christine Abram, who was Preston's Liberal Democrat leader until her defection two years ago, said she was "shocked and baffled" by Mr Pennington's decision.
"When I was a Liberal Democrat, Liam was one of our best foot soldiers and he has stood several times to be elected over the past 10 years.
"I was standing behind him at the count on 7 May and he was ecstatic when he won.
"He's abused the faith of the people who voted for him and let them down."
Riversway Labour ward councillor Dave Wilson said: "It's a personal decision for him.
"Something must have happened in his life, but I don't know about it, so wouldn't wish to judge him."
A Preston City Council spokesman said plans were under way to book polling stations and rota staff for a by-election in two months time at a cost of £5,000.
On the evening of his election, when nearly 4,500 local people voted in his ward election, Mr Pennington wrote on his Facebook page: "Thanks to the voters of Broadgate, the Docks, and Christ Church, for putting their trust in me.
"I am now councillor for Riversway, and will do all I can to repay their trust and, also, drink quite a lot."
Related Internet Links
The BBC is not responsible for the content of external sites.