Tina Fey wins top US comedy award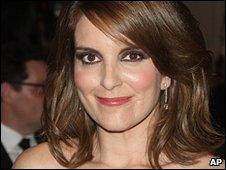 Comedy actress Tina Fey is to receive the annual Mark Twain Prize for American Humour - one of the highest comedy honours in the US.
The Saturday Night Live star is only the third woman to have won the award in 13 years.
Fey, 40, has already won six Emmys and two Golden Globes for her TV series 30 Rock, which she writes, produces and also stars in.
She recently starred in box office hit Date Night with Steve Carrell.
Fey also appeared in Mean Girls and Baby Mama, but her popularity soared in 2008 with her impersonations of Republican vice-presidential hopeful Sarah Palin.
The Mark Twain Prize, established in 1998, honours people who have had an impact on society comparable to the 19th century satirist and writer of novels The Adventures of Huckleberry Finn and The Adventures of Tom Sawyer.
Previous winners include actor Bill Cosby, stand-up comedian George Carlin, actor Steve Martin and playwright Neil Simon
Lily Tomlin and Whoopi Goldberg are the only other women to have secured the prize.
Fey will be presented with her award on 13 November at the Kennedy Centre in New York.
Related Internet Links
The BBC is not responsible for the content of external sites.