Iraqi Airways to be closed following bankruptcy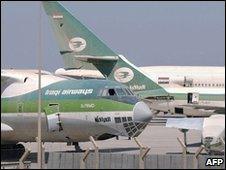 The Iraqi government has said it will close the state-owned Iraqi Airways after declaring it bankrupt.
Iraq's transportation ministry told reporters the airline would be closed following a damaging dispute with Kuwait over war reparations.
Kuwait Airways says the Iraqi flag carrier owes it about $1.2bn for aircraft and plane parts taken during the Iraqi invasion of Kuwait in 1990.
All scheduled Iraqi Airways flights have been cancelled.
They include weekly flights between Baghdad and London, and flights from Baghdad to a number of other destinations in the Middle East, including Tehran, Damascus and Cairo.
The ministry blamed "harassment" from Kuwait for the airline's failure.
Last month, lawyers acting for Kuwaiti authorities tried to have an Iraqi Airlines plane confiscated while at London's Gatwick Airport.
It had just arrived following the first direct flight between Baghdad and London for 20 years.
The airline's chief executive also had his passport confiscated and was held in London, but has since returned to Iraq.
Earlier this week, Iraqi Airways said it would end flights to Europe and Sweden because of the efforts of Kuwait to retrieve compensation.
Lawyers acting for Kuwaiti authorities are unable to seize planes, however, because they are chartered from other airlines, rather than owned by Iraqi Airways itself.
Chris Gooding, a lawyer representing Kuwait Airways, said the winding up of Iraqi Airways would not stop his clients from pursuing compensation.
He pointed to a statement made by the Iraq transport minister last week which said: "This action will not protect a government company because when a government company is declared bankrupt its assets are transferred to the ministry of finance and therefore the ministry will be prosecuted."
"I'm sure he won't be surprised to hear that Kuwait Airways' legal team entirely supports that conclusion," Mr Gooding told BBC World Service.
The transport minister warned that winding down the company could take as long as three years.
But all Iraqi Airways flights were immediately cancelled and refunds are already being offered to affected customers.
The move also puts around 30 jobs at risk in the UK.
Related Internet Links
The BBC is not responsible for the content of external sites.