Ethiopia opposition leaders call for new elections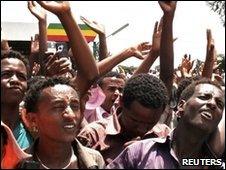 Ethiopia's opposition leaders have called for a rerun of Sunday's elections, saying they were flawed.
Head of the main opposition coalition Merera Gudina said he will not accept the results, which gave Prime Minister Meles Zenawi a landslide victory.
Mr Merera says two party members were killed by security forces, reports say.
The EU and US have both criticised the polls, saying they fell short of international standards. Ethiopian officials have denied fraud.
African Union observers have said they were satisfied conditions during the elections allowed Ethiopians to freely express their views.
Mr Merera, chairman of the Medrek coalition of eight main opposition parties, has called for a new election.
Earlier, another opposition leader Hailu Shawel had also called for a rerun of the elections.
He told the BBC that his party's election agents had been beaten and even imprisoned before polls opened and there were no independent observers in much of the country outside the capital.
Meanwhile, Mr Merera has said two members of his party were shot dead by security forces in the Oromiya region in the south of Ethiopia, Reuters news agency reports.
"The government is trying to prevent protests by massively repressing the people," he said.
But a government spokesperson claims one man was shot when he stormed an office where ballots were being counted and the other was killed in self-defence by a policeman, Reuters says.
At a victory rally on Tuesday in the Ethiopian capital Addis Ababa, Mr Meles warned international observers to respect the election results, saying: "The people's vote will not be overturned by foreign forces."
According to the official election results, 499 out of 536 seats declared so far have been awarded to the governing party.
Medrek - which had been seen as the main challenger to Mr Zenawi's party - has only won a single seat.
Mr Shawel says the results "don't look real," reports the AFP news agency.
Ethiopia's last elections, in 2005, were marred by violent protests over alleged fraud which left about 200 people dead.
At that time, Mr Shawel was leader of the opposition coalition and was jailed, along with several other opposition leaders, for his role in the protests.
Most of those jailed were later pardoned and released, although one opposition leader remains in prison.
The BBC's Will Ross in Ethiopia says opposition leaders risk being sent to prison if they continue their protests, since in the eyes of the Ethiopian authorities, there is a thin line between rejecting the election results and inciting violence.
Mr Shawel says he will not call on his supporters to protest, reports AFP.
Mr Meles - who has been in power since 1991 - put Sunday's election win down to an impressive track record, especially when it comes to economic growth.
The government has worked hard to improve infrastructure, especially in the urban areas, and social services such as healthcare have become more accessible.
Related Internet Links
The BBC is not responsible for the content of external sites.