Ceremony held to mark Thai unrest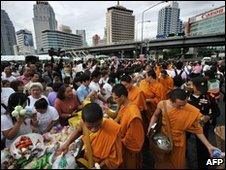 Monks and other religious figures have held a vigil in Bangkok a week on from the army's operation to clear the capital of anti-government protesters.
Several hundred monks led ceremonies which featured Christian, Sikh and Muslim leaders in mass prayers to bless the city.
The government says it wants to pursue reconciliation in the wake of the protests.
More than 80 people died over the course of the two-month stand-off.
On Tuesday, a court laid terrorism charges against former leader Thaksin Shinawatra, who the government accuses of fomenting the unrest.
He denies the allegations and says they are politically motivated.
Ceremonies and prayers were held at several sites across the capital.
"It is very important for all of us in Bangkok to forgive and move ahead," said Bangkok Governor Sukhumbhand Paribatra, a member of the ruling Democrat Party, who hosted the event.
He said the event was meant to "wipe away a bad path and to create a better future".
Bangkok remains under an overnight curfew in the wake of the violence. The government says the curfew is needed to prevent further unrest.
The nine-week red-shirt protests converted some parts of Bangkok into barricaded no-go zones.
Attempts to negotiate a settlement failed, and on 19 May the military moved to clear protesters from the area
More than 80 people died over the course of the two-month protests. Several buildings were also burned down by protesters as they left their protest area.
The protesters had been calling on the government to step down, saying it came to power illegally.