Italy joins euro austerity drive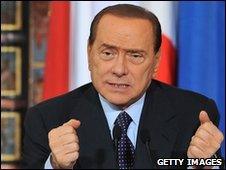 The Italian government has approved austerity measures worth 24 billion euros (£20bn; $29bn) for the years 2011-2012.
The announcement makes Italy the latest eurozone country to announce cuts in an effort to reduce the gap between spending and earnings.
The UK and Danish governments also this week announced plans to curb spending.
Italy will take measures to reduce public sector pay and will put a freeze on new recruitment.
Public sector pensions and local government spending are also expected to be hit.
Added to these, a clampdown on tax avoidance is also planned.
The cuts are equal to some 1.6% of gross domestic product (GDP).
Similar reductions in spending measures have already been announced by Greece, Spain and Portugal.
Some Italian workers have already been out protesting.
In Rome, workers at the Italian Institute for the Professional Development of Vocational Training of Workers (Isfol) held protests against the cuts at their headquarters.
One worker, Simone Casadei, said the public sector had already paid a heavy price.
"The sector of public research has already paid its toll and suffered cuts in the past," he said. "So we are asking for our sector to be left out of the new budget cuts."
He added that the money should be raised by getting tough on tax evasion.
"We also demand that the money needed to face this problems... is obtained through a tough action against tax evasion.
"The state cannot always take the money from the same sources, that is workers and pensioners."
The government hopes to bring its deficit down to below 3% of GDP by 2012 - from 5.3% now - in order to help maintain the confidence of international investors and prevent the spread of a Greek-style debt crisis.
Concerns over the level of Greece's debts have led to an effective boycott of Greek debt on the world markets, and have spilled over into deepening worries about the other weakest members of the 16-nation eurozone: Spain, Portugal and Italy.
Related Internet Links
The BBC is not responsible for the content of external sites.