'250,000' to miss university places this year
By Sean Coughlan
BBC News education correspondent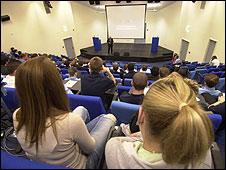 Almost a quarter of a million people applying for university this year are going to miss out on a place, university leaders are forecasting.
Spending cuts have reduced extra university places at a time when there has been a huge surge in demand.
The number of applicants not getting a place will have doubled in two years.
Professor David Green, vice-chancellor of the University of Worcester, says it will mean thousands of "unnecessarily blighted lives".
With the spending cuts stopping university expansion, this summer will see an unprecedented number of applicants failing to get a place on a degree course.
"Many highly-qualified young people with good A-levels will not get a place at university," says Professor Green.
"The same students, with the same qualifications, applying for the same university two years ago, would have got a place."
He says this is "tough on young people who are entirely blameless" of the financial problems that are putting a brake on university places.
Professor Green is also forecasting that because of spending restrictions designed to curb numbers there will be an actual drop in overall places available this year, despite the announcement of a small number of extra places.
He argues that universities have the capacity on courses to offer a further 40,000 places, if the funding was made available.
Last year, there were 158,000 applicants who did not get a place - up from about 120,000 in 2008.
Professor Green is forecasting that this will rise to 225,000 this year and could edge towards 250,000.
The most recent admissions service figures show an average 16.5% increase - and 80,000 extra applicants - but he believes that this could rise further with late applications.
Individual institutions have seen rises in applications of more than 40%.
A separate analysis by the Million+ group of new universities suggests there will be a "mismatch between supply and demand of 250,000".
The admissions service Ucas says there will be at least 200,000 applicants who will not end up with a place - with a full breakdown of applications due in July.
Within this total number of people failing to get places will be some who did not reach the grades needed - and others who might apply and then get a job instead.
But Professor Green says that about 100,000 of those failing to get a place will have good grades.
He attributes this increase in applications to young people getting the message that they need a degree to improve their career chances.
He also sees a major change in the employment market, with new jobs more likely to be created in graduate areas, rather than manufacturing or unskilled jobs.
This means that both young people leaving school and mature students who want to improve their skills are chasing places on the same courses.
This year's applications are also now competing with those who did not get places last year.
Ucas has said that more than 40,000 of this year's applicants had previously applied last year.
Cuts in university spending announced this week meant that the number of extra places on 2009 levels has been reduced to 8,000 full-time places.
But Professor Green says these extra places will be counterbalanced by losses elsewhere leading to a reduction in places overall.
And in particular, he says that the fines levied on universities which over-recruit mean that they will be much more cautious about the number of students - leading to them recruit less than their cap.
The new universities and work-related courses are seeing particular surges in demand.
Alice Hynes, chief executive of the Guild HE group of smaller specialist universities, says there are particular concerns for students who might miss out on work-related courses.
Too often debates about higher education become "tangled up" in who gets into the top universities, she says.
But a much more pressing issue is about those students who might need a degree to improve their job chances, she says.
Million+ is warning that the lack of places will mean that many students from families from poorer backgrounds will be discouraged from applying.
"This shortage will only grow more acute between now and the start of the academic year," says a Million+ spokesperson.
"It's clear that the decision to reduce the number of places was the wrong one."
The Business, Innovation and Skills department, which is responsible for universities, says that "securing a place at university has always been a competitive process".
"The government wants to support people with the ability and talent to go to university - because it is good for those individuals and the future of our economy. That is why we are creating 10,000 additional places to meet the demand this year."
Related Internet Links
The BBC is not responsible for the content of external sites.