Firefighters pull boy from River Isla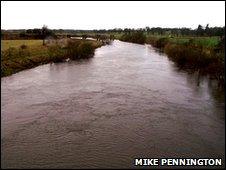 A teenager rescued from the River Isla on Sunday after trying to swim to the opposite bank was lucky to escape with his life, the fire service has said.
The 15-year-old from Ayrshire attempted to swim across the river close to the Couttie Bridge, near Coupar Angus, when he was swept away.
His friends called 999 and the boy was eventually rescued by firefighters who managed to reach him with a throw line.
He was taken to Ninewells Hospital, Dundee, but has now been allowed home.
Tayside Fire and Rescue Service said they received a call at 1915 BST on Sunday reporting that the teenager was trapped in the water.
Firefighters from Coupar Angus and Blairgowrie were joined by a specialist water rescue team from Dundee at the scene.
Tayside fire service's Rab Middlemiss said: "On arrival we found the young lad had been swept downstream.
"It appeared he had attempted to swim across the river but had been carried away by the force of the water."
Although conditions appeared to be relatively benign, Mr Middlemiss said the water was deceptively cold.
"The boy was in shock but managed to make his way toward the side of the river where the current was not so strong," he said.
"At this point he was extremely scared and too frightened to move.
"Our crews, who were equipped with life jackets and water throw lines, deployed up the bank.
"Eventually he managed to grab one of the lines and the firefighters then pulled him out."
The teenager, who was on a weekend holiday with family members, was taken to hospital with suspected hypothermia.
Mr Middlemiss added: "Obviously the consequences of this incident could have been tragic and, with summer coming, I would really like to remind people that the force of water can catch people out."
Related Internet Links
The BBC is not responsible for the content of external sites.